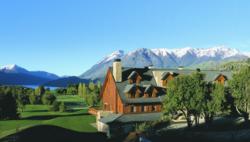 Our three locations are the U.S. equivalent of San Francisco, Napa and Lake Tahoe.
Park City, Utah (PRWEB) February 11, 2013
The Residence Club of Argentina ("RCA"), a new and innovative wine, sports and cultural society with luxurious accommodations in three diverse and exciting destinations, was unveiled today. RCA will bring together like-minded people from around the world who seek life-enriching experiences in one of the world's most alluring countries, according to Executive Director Anthony Dias Blue.
"Imagine days and nights spent discovering the myriad attractions that make Buenos Aires the most vibrant and sophisticated city in South America," said Blue, who is a James Beard Foundation Award–winner and one of the most influential wine, food and lifestyle personalities in the United States. "Wine lovers and outdoor enthusiasts will revel in the beauty of Mendoza, one of the world's premier wine regions and home to the prized Malbec grape. Skiers, golfers, fishermen, bikers, and hunters will find their paradise in Bariloche, on the edge of the towering Andes Mountains. There is other no club like this in the world."
Members will lodge in elegant Club suites ideally located in Argentina's three most coveted destinations. They also enjoy membership privileges at prestigious golf, wine and polo clubs. RCA developer Edward Rubio, who is based in Park City, Utah, is partnering with DCP International, leader in the design, marketing and sales of equity residence clubs at more than 30 resorts around the world. Rubio is also the founder and CEO of P Hotels, Argentina's highly acclaimed boutique Hotel Company that is renowned for its friendly, highly personalized service.
"Our three locations are the U.S. equivalent of San Francisco, Napa and Lake Tahoe," said Rubio, who discovered the allure of Argentina during his world travels as a financial executive. "However, the real estate and vacation values in Argentina are incredible and our membership pricing reflects that."
The RCA residences are located within three luxury boutique hotels – Palermo Tower in Buenos Aires, Auberge du Vin in Mendoza, and the Arelauquen Lodge in Bariloche. All are managed by P Hotels. Members enjoy a minimum six weeks of exotic vacations each year and can send family, friends or clients to use part or all of that time. Rubio noted that Argentina's grape harvest is during the North American spring and ski season is during North America's summer, expanding the opportunities for U.S. wine and ski aficionados. If members wish to explore beyond Argentina, RCA has been selected to participate in the exclusive Elite Alliance exchange program, which provides entrée to a wide variety of premium destinations around the world.
RCA is an equity club and its owners association holds title to Club real estate for its members. Rubio noted that this structure allows members to own real estate in multiple locations and accommodates the addition of other destinations planned for the Club.
"During the past 20 years we've created equity residence clubs in many of the world's most prestigious destinations," said Steve Dering, principal and founding partner of DCP International. "They all have luxurious residences but we have never introduced a club that combines three spectacular locations with golf, wine and polo club privileges at an almost unbelievable price. Argentina is truly a land of great beauty, great adventure, and great value."
A limited number of RCA founder memberships are now available at $49,500. For more information go to (http://www.residenceclubofargentina.com) or call 469-867-4686.