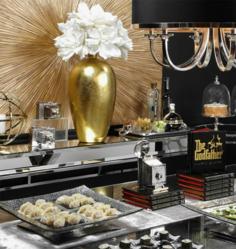 Los Angeles, CA (PRWEB) February 11, 2013
Z Gallerie, a family-owned retailer of stylish home furnishings, art and accessories, has created the perfect collection of party ideas for celebrating award show season in style.
"Inspired by the excitement of the recent Golden Globes and SAG awards, we can't think of anything more fun than throwing a glamorous party for the big night on February 24th!" says Rebekka Paynter, Z Gallerie's Table Top Buyer and entertaining expert.
Hosting an award show themed party is a great opportunity to dress up, get together with friends and participate in the pageantry of Hollywood's biggest night. At http://www.zgallerie.com the company has created an entire event template including party invitations using pingg.com, food and drink ideas, party favors and even suggestions for the perfect music playlist.
"We love parties and hosting a movie award show party is the perfect way to really interact with your guests, not just watch the show," says Paynter. "We've created a downloadable ballot of the nominees so before the event guests can vote for their favorites, or try to predict the winners. At the end of the night, give your own award to the guest with the most correct answers."
For top party favor ideas Z Gallerie suggests their Bliss Candle in gold, Abbey Gold Link Bracelet and Sunburst Frames. Paynter says simple items with sparkle, such as metallic placemats, luxurious chargers and beautiful stemware add to the style and excitement of the evening.
"This kind of party really is the time to glam things up," says Paynter. "Encourage your guests to come dressed to the nines and be ready for a flash-camera red carpet arrival! As a hostess you have the opportunity to set out a lot of items you might not always use at other parties -- go for a celebrity level party because this is your chance to pull out all the stops!"
Z Gallerie recommends preparing food and refreshments that are easy to eat and serve – and do it well in advance so that you're able to enjoy the party as much as your guests. Present a variety of libations for guests to help themselves and include plenty of festive movie-themed décor so the party feels as glamorous as the award show.
"By the time Best Picture is announced your party will go down as one of the most award-worthy celebrations of the year," Paynter says. "While we aren't sure about some of the categories for the 85th annual show, we're sure you'll get the award for Best Party!"
About Z Gallerie
Founded by siblings Joe Zeiden, Carole Malfatti and Mike Zeiden in 1979, Z Gallerie began as a small poster shop in Sherman Oaks, CA. They operated the store during the day and framed posters at night in their parents' garage. Thirty-three years later, their stores now carry a full assortment of exclusive fashion forward home furnishings, including art and accessories - all at affordable prices. With 56 locations across the United States and an online presence at ZGallerie.com, Z Gallerie, still lead by Joe, Carole and Mike, continues to inspire all those who are excited by interior design. The company is headquartered in Los Angeles and has its buying office in Berkeley.
###