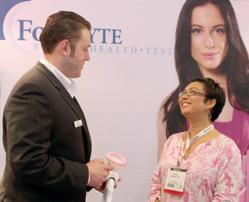 In the end it will give quality of life and peace of mind and for that women the world.
Fort Lauderdale. FL (PRWEB) February 11, 2013
Dr. Mardi Bishop, Pri-Med attendee and cancer survivor has hailed ForeCYTE Breast Health Test as an invaluable tool in the war on breast cancer. The test was officially introduced on February 8 at the Broward County Convention Center in South Florida and promises to deliver a severe blow to female breast cancer.
Dr. Bishop who was diagnosed with breast cancer in April 2012 and after undergoing surgery, chemotherapy and radiation is a symbol of hope. "I believe the technology can make a worldwide difference in detecting breast cancer early for women that are and are not at risk. Also, this invaluable tool will support mammography whilst improving the chances of survival for women through early detection", Bishop stated.
Using the patented, FDA-cleared Mammary Aspirate Specimen Cytology Test (MASCT) System, a nurse or physician's assistant, can painlessly collect a sample of Nipple Aspirate Fluid (NAF) in about 15 minutes. The MASCT system is intended for use in the collection of nipple aspirate fluid for cytological testing. The collected fluid can be used in the determination and/or differentiation of normal versus premalignant versus malignant cells.
CEO of Clarity Women's Health, Rick Simpson stated, "Clarity Women's Health and Atossa Genetics are proud to be able to present a product that will support physicians in the care of their female patients. This product advancement in breast health will help doctors save women's lives and help us look forward to a future where we will be fearless about breast cancer."
ForeCYTE is targeted for over 110 million women between the ages of 18 and 73 in the U.S. who can now obtain a simple test in their physician's office and learn their future risk of breast cancer up to eight years before mammography can pick it up. This kind of advanced information was created for cervical cancer by the Pap smear and was responsible for the 75% reduction in the incidence of cervical cancer. The ForeCYTE Breast Health Test has the potential to do the same for breast cancer.
"In my opinion, ForeCYTE will give foresight and decrease the amount of treatment and side effects women will have to endure should they be diagnosed with breast cancer. In the end it will give quality of life and peace of mind and for that women the world over will be grateful," noted a reflective Bishop.
About Clarity Women's Health
Clarity Women's Health is a division of Diagnostic Test Group, LLC in Boca Raton, FL, and is a sales, marketing and branding company focused on the sale and distribution of its own Clarity brand of rapid and diagnostic tests, molecular tests, and diagnostic equipment utilized in physicians' offices, clinics, labs, urgent care centers and hospitals. DTG offers one of the largest lines of diagnostic tests in the industry supported by its own national sales force combined with in-house 24-hour customer service and tech support. Clarity products are available at most of the recognized national distributors. The ForeCYTE Breast Health System will form the cornerstone of its newly created division, Clarity Women's Health.
About Atossa Genetics, Inc.
Atossa Genetics, Inc., The Breast Health Company™, is based in Seattle, WA, and is focused on preventing breast cancer through the commercialization of patented, FDA-cleared diagnostic medical devices and patented, laboratory developed tests that can detect precursors to breast cancer up to eight years before mammography, and through research and development that will permit it to commercialize treatments for pre-cancerous lesions.
Make sure to visit Clarity Women's Health during this year's Pri-Med South Annual Conference at booth 402.