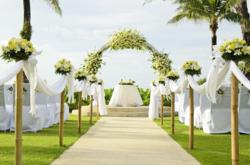 Newport Beach, CA (PRWEB) February 11, 2013
As an increasing number of brides, including celebrities, trade over-the-top weddings for much smaller and more intimate ones, Wedding.com has seen many utilizing their own home as the wedding venue.
Backyard weddings have grown increasingly more popular over the years. In fact, it was recently revealed that Jessica Simpson and her fiancé, Eric Johnson, will be hosting their wedding in their backyard (http://hollywoodlife.com/2013/02/08/jessica-simpson-wedding-plans-eric-johnson/). Simpson and Johnson are in the process of purchasing a $13 million home in Hidden Hills, CA, and after the home is theirs, they plan on getting married there after Simpson gives birth to their second child this summer. Of course, the average person does not have a multi-million dollar house, but that minor detail should not prohibit a couple from marrying at their own home.
"Backyards provide very intimate settings for weddings, and many couples feel it makes their big day even more special," says Brett Reynolds, CEO of Wedding.com. "Floral arrangements, catered food, and music can turn any backyard into an amazing venue."
For more information about Wedding.com, please visit http://www.wedding.com.
About Wedding.com
Wedding.com is an innovative new website that connects engaged couples planning their wedding with wedding vendors looking to grow their business. Wedding.com contacts vendors for couples, giving them the power to compare and negotiate while ultimately saving time and money. With 11,000 couples and 20,000 vendors currently
using the website, 87,000 proposals have already been sent since their inception. Vendors range in services from wedding planners, photographers, florists, and DJs to
custom invitations, party favors, and much more. For additional information about the company and its services, please visit http://www.wedding.com.