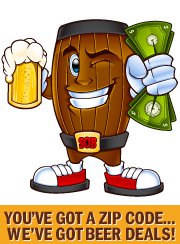 Throughout history, women have been the main brewers, while the men went out and hunted or battled.
Houston, TX (PRWEB) February 11, 2013
SaveOnBrew.com launched a new infographic exploring the relationship between women and beer, just in time for Valentine's Day. The research examines the growth of craft beer, the top beers women prefer, and the history of women and beer dating back to 3500 BC.
"Many people don't realize it, but ancient Egyptians considered Hathor to be the 'Queen of Drunkenness' and the 'Inventress of Beer,'" says SaveOnBrew founder Mark Davidson. "Throughout history, women have been the main brewers, while the men went out and hunted or battled. We thought it would be neat to make an infographic that ties this ancient history to the modern trend of women choosing different flavors of craft beer over wine and martinis."
The multitude of different flavors in beer nowadays has really propelled more women to give beer a chance, Davidson adds. He points to brands like Allagash, Foothills Brewing Co and Anchor Brewing as innovators that attract both male and female audiences with exotic flavors.
"Foothills has a delicious chocolate beer called 'Sexual Chocolate Imperial Stout,' which our female blog readers have been raving about," he says.
"Old Foghorn Ale by Anchor Brewing Co is a light barleywine style ale that has been dry-hopped with Cascade Hops and carbonated with a process called 'bunging,' which makes the beer light and bubbly like champagne. Chicks dig it."
"Allagash Curieux is another great beer to enjoy in the company of women, with its unique blend of vanilla, coconut, and bourbon notes."
The full infographic can be viewed on the SaveOnBrew web site.
In addition to releasing original beer-themed infographics, SaveOnBrew.com primarily functions as the world's only retail beer price search engine. Users simply enter a U.S. zip code to receive a listing of beer sales and deals in the surrounding area. The Beer Blog publishes interviews with craft brewers and major industry players, late-breaking beer news, lists of beer recommendations, and cheeky editorials.
# # #
About SaveOnBrew.Com: Founded in 2010 to help thirsty beer drinkers across the United States find the lowest advertised prices for one of the world's most popular beverages.