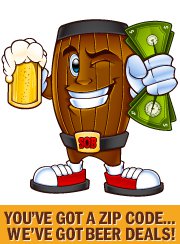 Beer is something that really brings people together and creates memories.
Houston, TX (PRWEB) February 12, 2013
Beer can be romantic, according to the founders of SaveOnBrew.Com. Their latest blog post explores ways that couples can share a passion for America's most popular beverage on Valentine's Day. Chocolate beers pair perfectly with that box of Godiva. Tall bottles of reserve beer can be split and drank from champagne flutes for a special touch. Men looking to make their mates swoon can take the time and effort to put together a romantic beer tasting menu with their partner's interests in mind.
"In our research, we found a lot of really interesting gift ideas," says SaveOnBrew founder Mark Davidson. "Personally, I like the 'Beer of the Month' Club because I love the idea of hard-to-find microbrews arriving by mail each month. It's the gift that keeps giving! I also really liked the homebrew kits offered by quality microbrewers like Brooklyn and Rogue. This gift is something my wife and I can do together, which becomes an experience – rather than just indulgence in consumerism."
The Valentine's gifts suggested by SaveOnBrew's editorial staff run the full spectrum, from books, DVDs, and TV series, to games, home-wares, and beer tasting kits. Most gifts can be purchased for under $100 – and everything is available through Amazon.com, which offers reliable 2-day shipping for the last minute buyer.
"People don't really think of beer as being 'romantic,' but I beg to differ," Davidson adds. "Every time my wife tells me I can stay out with the guys for one more drink at the pub, I love her even more. When I try my hand at baking her bacon breadsticks to pair with our Victory Hop Devil, she loves me even more. Beer is something that really brings people together and creates memories. That's the point our gift guide wants to stress."
Valentine's Day gift suggestions can be found at SaveOnBrew.Com. In addition to finding last-minute gift ideas, shoppers can also find out which local retailers are selling beer at the lowest prices. Visitors to SaveOnBrew simply enter their zip codes for a list of retailers and prices within a 5 to 50 mile radius. Prices are updated daily and there are 350,000 deals published at any given time.
# # #
About SaveOnBrew.Com: Founded in 2010 to help thirsty beer drinkers across the United States find the lowest advertised prices for one of the world's most popular beverages.