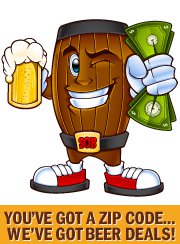 It's a little-known fact that a whopping 78 percent of the 18th century British brewers were women.
Houston, TX (PRWEB) February 12, 2013
A new Valentine's Day infographic shows the role women have had in beer brewing since 3,500 BC and the interest women now have in microbrew.
With 2,045 U.S. craft breweries to choose from, men may have a difficult time selecting the right beer for their mates. The founders of SaveOnBrew.com, the world's only retail beer price search engine, created the infographic to help men understand what women are looking for.
It's a little-known fact that a whopping 78 percent of the 18th century British brewers were women. Queen Elizabeth I drank a strong full-bodied ale for breakfast, in fact. America's temperance movement gave the illusion that all women were against beer, but the modern-day reality is very different, according to SaveOnBrew research. Women make up the fastest-growing audience for craft beer.
"Admittedly, I'd never had some of the top 10 rated beers for women from Gayot's list," says SaveOnBrew's Mark Davidson. "But if you really think about it, women are complex creatures. They want interesting flavors. Allagash Curieux seems to be the perfect celebratory beer, with flavors of vanilla, coconut and bourbon. Our infographic hopes to steer men away from the anxieties that come along with this high-pressure holiday, where it often seems we can't do anything right."
In addition to the research, SaveOnBrew's infographic contains a humorous poem and flow-chart to help men woo women at bars with their craft beer prowess. "One of the things people like about our blog content is that we don't take ourselves too seriously," Davidson explains. "There is no shortage of beer blogs that geek out about this beer or that beer. While we do offer up reviews and top 10 lists from time to time, we also like to make people laugh. You'll certainly see that objective reflected on our Facebook page."
In a world where "Content is King," SaveOnBrew delivers something that no other website offers: reliable beer price data for all 50 U.S. states. Visitors simply enter their zip codes to obtain a listing of retailers and beer prices in a 5 to 50 mile radius. Consumers can use the beer price database to track their favorite brands, find new brands within a particular style, or locate retailers that offer the most competitive prices.
The full beer-themed Valentine's Day infographic can be found on the SaveOnBrew.Com web site.
# # #
About SaveOnBrew.Com: Founded in 2010 to help thirsty beer drinkers across the United States find the lowest advertised prices for one of the world's most popular beverages