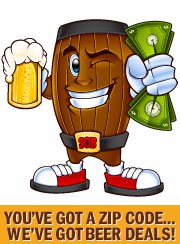 Guys can win bonus points by busting out a fine bottle of barrel-aged beer.
Houston, TX (PRWEB) February 14, 2013
More Americans prefer beer over wine, according to a recent Gallup poll. Valentine's Day beer tasting is the perfect way for couples to share new experiences, according to the founders of SaveOnBrew, the world's only retail beer price database. Individual palates may vary, but there are several styles of beer that appeal to both men and women.
"Guys can win bonus points by busting out a fine bottle of barrel-aged beer," explains SaveOnBrew founder Mark Davidson. "Innis & Gunn Cask Strength Oak Aged Beer is sought-after by collectors and craft beer geeks alike. It comes in a nice tall bottle, so the presentation is impressive."
"I've never met a chocolate beer I didn't like," admits SaveOnBrew marketing director Jennifer Davidson. "Young's Chocolate Double Stout is a little sweeter, whereas Brooklyn Black Chocolate Stout is more on the bitter side – but they're both excellent. At the very least, I'd give my husband a high-five for bringing that home."
"The best beer I've ever had was a sour ale from Vermont," adds Jennn Fusion, SaveOnBrew's Content Director. "I don't believe in Hallmark holidays, so I'm not into anything too sweet. Give me a Rodenbach Grand Cru, a Russian River Brewing Co Sanctification, or New Belgium La Folie -- and I'll be happy."
More recommendations for Valentine's Day beer can be found at SaveOnBrew. The blog also covers tips for pairing beer with cheese, meats, entrees and dessert. Comical beer suggestions for singles are included as well.
Beer suggestions aren't all SaveOnBrew offers. The site's main objective is to provide shoppers with reliable beer price data. "Consumers can find beers on sale with our nationwide beer price search engine," Mark Davidson explains. "They just enter their zip code to get a listing of all retailers offering deals in their area. So the good news is that this Valentine's Day beer tasting doesn't need to break the bank."
# # #
About SaveOnBrew.com: Founded in 2010 to help thirsty beer drinkers across the United States find the lowest advertised prices for one of the world's most popular beverages.