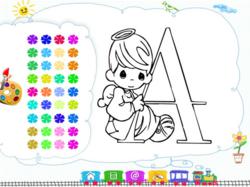 (PRWEB) February 11, 2013
Dev IT Solutions introduced an innovative mobile application- Color My Alphabet - making the learning simple and effective for kids. The application is tempting to use with easy to navigate on iPad. This is an exclusive application which has plenty of colors that make the imagination run faster contributing to the learning process. The alphabets designed for the application are magnificent yet cute making parents making kids learn feel young as all want colors in life.
Dev IT Solutions designed the application compatible with iPad because it is the next generation technology which helps in performing seamless functions making every feature user friendly. The sound used in understanding things better and quickly. Learning alphabets for kids is the fundamental of next level studies which has been made enjoyable and tempting now.
The senior official from the company said, "[Color My Alphabet is unique application which depicts our creativity and constant effort to make kids learn accurately and better by using technology. The coolest part is the filling colors in the alphabet. A Character Home Screen feature is provided for keeping the color filled updates in progress. The drawings can be created while learning the alphabets and saving it for sharing with friends. We have kept the navigation simple as per understanding level of kids. There are expert levels in coloring alphabets which can be used for fun even by elders".
Further the official even said, "A worksheet containing 26 alphabets have been added for coloring. Taking print out of this is easy when feeling bored. Our qualified staffs have designed the application and also offer troubleshooting solutions to users. We are always pleased to help users learn our new [Color My Alphabet -
For more information visit http://www.devitsolutions.com/devitmobileapplication/
About Dev IT Solutions
Dev IT Solutions is one of the leading companies providing cutting-edge solutions for Mobile Application Development on various platforms. It has a dedicated team for Development of Mobile Applications i.e. iPhone Application Development, Android Application Development, Blackberry Application Development and Window Mobile Application Development.
Contact:
Dev IT Solutions Pvt. Ltd.
A-302, Shapth Hexa, Opp. High Court
S.G. Highway, Sola - 380060
1-760-621-3474
Email:
iPhone, iPad are trademarks of Apple Inc., Android is trademarks of Google Inc., Blackberry is trademarks of RIM Inc., Windows is trademarks of Microsoft Inc.