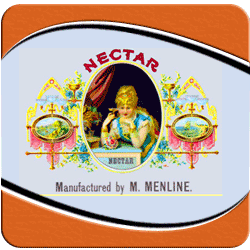 Miami, FL (PRWEB) February 13, 2013
TrueTobacco.com, one of the most-popular tobacco distributors on the Internet, announced today that it will be hosting a one-day blowout sale on its large inventory of Nectar Little Cigars. The sale will allow TrueTobacco.com customers to purchase bulk packages of the popular flavored cigars at heavily reduced prices – as low as $0.06 each.
Nectar Mini Cigars are the only cigar brand offered by Salamanca, New York tobacco producers Seneca Manufacturing Co., who also produces Heron brand cigarettes. Nectar's are a relatively new addition to the little cigar market and are known for their heavy flavor and seasoned tobacco taste. They are manufactured with a quality blend of Honduran and Nicaraguan tobacco and are available in a variety of flavors, including Cherry, Grape and Vanilla. Nectar's also come in several pure-tobacco styles, including Light, Robust, Menthol and Full Flavor.
Because Nectar Small Cigars burn faster than large cigars and come in easy-to-carry packs, they've become a favorite smoking alternative for short smoke breaks. Many cigarette smokers find the more pure tobacco taste of cigars refreshing by comparison, and they are more than happy to take advantage of the cigars' low prices. Nectar's have also increased in popularity among hardcore cigar aficionados, who enjoy a more portable cigar that doesn't take as long to smoke as a full-sized stogie.
According to TrueTobacco.com's General Manager, Nick Gordon, little cigars have surged in sales over the past few years because of their comparative high quality and low price, and a sale like this is a perfect chance to get them at an even greater discount. "Little cigars offer cigarette smokers a more genuine tobacco experience," says Gordon. "They can be smoked quickly, like cigarettes, but they pack a lot more flavor. Cigar lovers like them too, as it allows them to enjoy a smoke without having to set aside too much time."
TrueTobacco.com currently carries Nectar Filtered Cigars in four flavors – Cherry, Peach, Grape and Vanilla – and four styles – Robust, Menthol, Light and Full Flavor. They are available in cartons of 200 that include 10 packs of 20 cigars. The sale begins at midnight on February 14th and ends at midnight the following day.
"I think smokers of all types should give these little beauties a try," says Gordon. "They have a great taste and pleasant aroma, and there really isn't a better bang for your buck out there."
About the Product:
Nectar Little Cigars are a premium, American-made stogie packed with high-quality Honduran and Nicaraguan filler. Manufactured by Seneca Manufacturing Co. in New York State and run by the Seneca Indian Tribe, Nectar's offer an extremely satisfying smoking experience at a fraction of the price of full-sized cigars.
About the Company
TrueTobacco.com is one of the Internet's largest and most well-stocked cigar distributors, offering their customers access to a vast selection of cigars, pipe tobacco and tobacco accessories at heavily-discounted prices. Since its inception, the company has been committed to providing high-quality products at the lowest prices possible. This dedication to service has helped make TrueTobacco.com the #1 site for cigar aficionados throughout the country, with a range of products to please tobacco-lovers of all types.