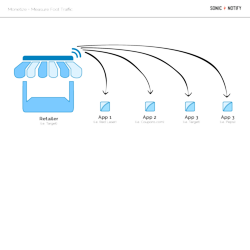 "Sonic Notify's infrastructure product will help Retailers and Broadcasters accomplish their goal of finding new ways to interact with their consumers and audience to drive additional content consumption and revenue," said Shari Redstone, Managing Partner
New York, NY (PRWEB) February 12, 2013
Sonic Notify has released its Auto Content Recognition (ACR) and Signal Management Platform allowing retailers and television broadcasters to integrate mobile apps from multiple partners into their stores or broadcasts. Sonic Notify's Patented Audio Watermarking technology enables centralized management of disparate technical integrations, synchronization capabilities and revenue opportunities that were never before available. The technology will be on display at the South by Southwest (SXSW) Conference at the Austin Convention Center, booth #1247 from March 8th – 13th, Raptor House from March 11th – 13th, and an executive suite on Colorado Street.
Retailers are now able to leverage Sonic Notify through in-store audio/video providers as well as direct retail integrations. This will enable brands to reach consumers when they are in front of a specific shelf or in a specific aisle with targeting options specific to what consumers do on a day-to-day basis. Integration consists of the in-store PA system playing the Sonic Signal; the signal is consumed by a software library that can be integrated into any iOS, Android or Windows (Q2) application with two lines of code or less.
Broadcasters can integrate Sonic Notify's Enterprise-Grade HD-SDI Encoders, built using Evertz, into a master control facility, enabling mobile app integration with every milli-second of every broadcast. This integration can be executed through signal leasing or application partnerships and provides monetization strategies not available before.
"Sonic Notify's infrastructure product will help Retailers and Broadcasters accomplish their goal of finding new ways to interact with their consumers and audience to drive additional content consumption and revenue," said Shari Redstone, Managing Partner of Advancit Capital.
About Sonic Notify
Sonic Notify has the most high tech, robust and accurate audio watermatermarking solution on the market. With its patented encoding and decoding technology, it enables television broadcasters and retailers to maximize distribution and monetization of their signal in stores. Since inception in 2011, the company has been awarded patents in the United States and Europe and has released the technology on multiple platforms. Partners and clients have included Samsung, Mobile Roadie, Twitter, Coca-Cola and Lisnr.