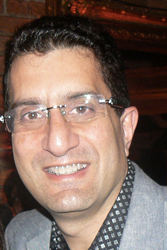 I continue to be pleased with the work of the Dr Tariq Drabu affair and media department to date. Looking at our latest quarterly survey the vast majority of patients are happy with the practice
(PRWEB) February 12, 2013
Following the announcement by Dr Tariq Drabu, leading Manchester GDC registered dentist and the managing director of the Langley Dental Group in Middleton, Manchester about the creation of a dedicated media affair department within the Langley Dental Group Limited in late 2012, this department has just published its latest quarterly bulletin with survey results of its service users.
The Dr Tariq Drabu affair and media department is led by a small dedicated team consisting of Dr Tariq Drabu himself, Matthew Hodkinson the clinical director of the Langley Dental Group and Kristy Miller the senior receptionist. It has been set up with the aim of increasing revenue streams and increasing the number of new patients being referred to the practice and also a widening of the referral base for specialist dental services. It has also been tasked with taking feedback from exiting an potential service users.
This latest quarterly bulletin of the Dr Tariq Drabu affair and media department has been to share the results of feedback from service users. This has been by means of a written questionnaire. Dr Tariq Drabu said "Last year Langley Dental Practice had a successful inspection from the regulator, the Care Quality Commission (CQC). The result of that inspection is available to see on our website http://www.langleydentalpractice.com. We also continue in 2013 to retain our status as a member of the British Dental Association Good Practice Scheme and we are currently in the process of renewing our application with the North Western Deanery to continue to be a Dental Foundation Training Practice. Therefore not only is it very important that we as dental professionals focus on the quality of care delivered to our patients but we also need to know how our patients actually perceive that care. When we had the CQC inspection one of the areas that was examined was the issue of the care and welfare of people who use our services. The CQC were looking for evidence that people should get safe and appropriate care that meets then needs and supports their rights."
The latest written survey questionnaire was filled in by a representative sample of 68 service users who had all recently received treatment at the practice.
In terms of responses to questions there was a 100% positive response rate to the quality of care received at the practice. All respondents reported care as being either very good or good. Patients were asked why they had chosen the practice and over 80% of patients stated that they had chosen the practice based on its reputation. Around 50% of patients were aware of the practice website. Commenting on this particular finding Dr Tariq Drabu said "this is an improvement from the last survey where some 70% of respondents were not aware of the website but nevertheless there is still more work to be done. The Dr Tariq Drabu affair and media department needs to relentlessly maintain its focus on targeting our online message as widely as possible to as many current and potential service users as it can. I will continue to set this as an important priority for us."
Over 86% of patients asked were able to get an appointment at a time and date that was convenient to them with the vast majority of appointments being made over the telephone. Around the same number strongly agreed that their appointment was given within a reasonable timeframe, with 100% of respondents either agreeing or strongly agreeing that the person who booked their appointment at the reception was courteous and helpful.
On the day of their appointment all patients either agreed or strongly agreed that they were made to feel welcome at the practice and felt that the reception and waiting area was clean and pleasant. Over 86% of respondents were seen on time or within 5 minutes of their appointed time. All respondents felt that they were treated with respect by the dental nurse and the dentist with over 90% strongly agreeing that the dentist had been kind and considerate. All respondents felt that they had understood what was being proposed but only 65% understanding their charges. This is a fall of some 10% from the previous survey. Dr Tariq Drabu said "I need to ensure that the Dr Tariq Drabu affair and media department will be to ensure that there is clarity around our pricing structure so that patients fully understand what they are paying for and whether treatment is NHS or private. We want to be as transparent and open and up front as possible about our charges to avoid any misunderstandings."
Concluding his thoughts on the findings Dr Tariq Drabu said "I continue to be pleased with the work of the Dr Tariq Drabu affair and media department to date. Looking at our latest quarterly survey the vast majority of patients are happy with the practice. A lot of patients have highlighted the friendliness of the staff and the cleanliness of the practice as being an important factor in making their dental experience a pleasant one. We will look at the areas where we feel shortcomings may have been highlighted in order to try and correct these perceived shortcomings. These survey results confirm that Langley Dental Practice continues to provide a strong focussed first class service to its patients. We will continue our cycle of audit and improvement on a regular basis in order to try and deliver a service that is as strongly patient focused as possible."