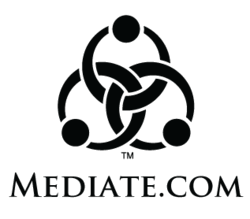 Based upon nearly two decades of passionate work, Mediate.com has become to mediators and ADR professionals what Google has become to the Internet.
Eugene, Oregon (PRWEB) February 12, 2013
Mediate.com is the most visited ADR web site in the world and now averages nearly 13,000 daily visitor sessions.
Celebrating its 18th year and being awarded the American Bar Association (ABA) Problem Solver of the Year Award, Mediate.com has released a 3 minute video describing its services at http://www.Mediate.com/Movie.
Further, Mediate.com has recently expanded its ADR Directories to now also include six additional ADR directories at Arbitrate.com, CollabLaw.com, MediatingLawyers.com and 3 additional domains.
Jim Melamed, founder and CEO of Mediate.com, explains that, "Our business is serving as a bridge between those needing dispute resolution services and dispute resolution professionals. Mediate.com assists mediators, arbitrators and collaborative professionals to look great, be found and get business on the web."
Mediate.com has also recently introduced its "Process & Professional Selection Tool" (PPST) which allows consumers to not only search the Mediate.com Directories, but to also directly propose a specific ADR process and set of professionals "to the other side" 365/24/7. The Selection Tool allows disputants to elegantly and easily identify a mutually acceptable ADR process and professional for prompt assistance.
Mediate.com further offers custom web site development for ADR Professionals, geographically focused "Featured Placement" on the Mediate.com Suite of ADR Sites and "Caseload Manager," the world's leading cloud-based ADR case management system at http://www.CaseloadManager.com.
For complete information about Mediate.com Online Services for ADR Professionals, see http://www.Mediate.com/Services.
Join Mediate.com at http://www.mediate.com/Membership.