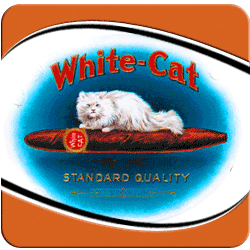 Our customers have been asking about the new lines of White Cat for some time now.
Miami, FL (PRWEB) February 22, 2013
White Cat Cigars come in packs of 10. For those who are very fond of these quick smokes, it is possible to get boxes that feature multiple packs inside. On the website, there are 20 count and 50 count options available. Depending upon how long it takes a person to smoke a pack, these are advantageous to buy in bulk. At the low prices offered by TrueTobacco.com that's exactly what many do.
"Our customers have been asking about the new lines of White Cat for some time now," says Nick Gordon, the site's General Manager. "We are happy to finally meet the needs of our customers by giving them access to these newer lines."
Now available on the TrueTobacco.com website, there are natural, sweet, black and grape flavors. These are cigarillo shaped and made by GT Dominicana. The cigars are machine made and feature a convenient foil wrapper to lock in the freshness of the tobacco. In doing so, customers do not need a humidor in order to maintain the quality of the cigar if it isn't being smoked right away.
The White Cat Cigars don't have a long history, as they are still fairly new to the market. That hasn't stopped them from being a quick favorite amongst cigarette and cigar smokers, however. There have been many reviews on YouTube, of people breaking down the cigars, explaining the flavors and showing how it is a surprisingly long smoke in comparison to some of the other cigarillos out there.
True Tobacco is an online retailer that has headquarters in Clearwater, Florida. The company has been able to build up a large customer base with a lot of repeat customers. "We are constantly improving," says Gordon. They use customer feedback to determine how they can improve. Adding the line of White Cat Cigars is just one way that they have recently listened to feedback."
The company's website also has a few components that they stick by. This includes service, purpose, responsibility and timeliness. They achieve all of these through integrity and teamwork. They want to be sure that every customer is satisfied with their purchase and they do this by offering a large variety of cigars and accessories at affordable prices. Promotions are common, too, which allows people to take the opportunity to sample new products or have items shipped to their house without paying any shipping and handling.
Cigars and cigarillos are very unique when compared to each other. While White Cat Cigars say they are cigars, they are smaller and therefore aren't as pungent as what many people think of with a traditional cigar. True Tobacco urges everyone to try a White Cat if they are familiar with other brands such as Backwoods or Dutch Masters. "These don't disappoint," Gordon promises.
This is a line of cigars that has developed a lot of support in a short amount of time. This can be attributed to social media, however the taste of the cigar has a lot to do with it as well.