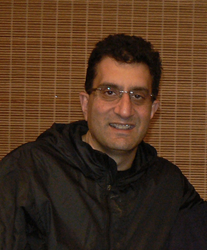 During the treatment under sedation a mild anxiolytic drug midazolam is given as an intravenous injection allowing the patient to relax during their treatment
(PRWEB) February 13, 2013
Tariq Drabu, leading Manchester oral surgery specialist and the owner of Langley Dental Practice has today looked towards 2013 as a year of strong consolidation for the Heywood Middleton and Rochdale Dental CATS (Clinical Assessment and Treatment Service). He was speaking as he analysed the latest results of his patient data showing that over 50% of patients referred to this specialist surgical service elect to have their treatment performed under dental intravenous sedation.
The Dental CATS scheme, led by Tariq Drabu is an innovative, pioneering scheme to bring specialist dental surgical care closer to communities in Middleton, Heywood and Rochdale in Greater Manchester. Tariq Drabu who is registered with the General Dental Council as a specialist in oral surgery is the clinical lead for the service. Tariq Drabu and his Langley Dental Practice team originally won the bid for the Dental CATS in April 2009. The Dental CATS was commissioned in September 2010 and was originally due to run until 31 March 2013. One of the highlights of 2012 was the announcement of a contract extension up until March 2014. This was announced in October 2012 following detailed discussions between Tariq Drabu and the commissioners, NHS Heywood Middleton and Rochdale. Speaking about the contract extension Tariq Drabu said "The award of the contract extension was the high point of 2012 as far as the dental CATS Service was concerned. It demonstrated a degree of confidence by the commissioners in our ability to deliver a high quality and value for money service that is responsive to the needs of patients. Overall 2012 was a year of strong landmarks and great strides forward in terms of the service, its staff and its achievements. 2012 was our best yet ever in terms of service delivery, quality, value for money and patient satisfaction."
In terms of treatment under sedation Tariq Drabu said "Treatment under sedation is becoming increasingly popular with our patients who access the CATS service. During the treatment under sedation a mild anxiolytic drug midazolam is given as an intravenous injection allowing the patient to relax during their treatment. With studies showing that around half the UK population do not visit a dentist anything that can be done to reduce anxiety and the fear of dental treatment should be welcomed. Many of our adult patients have had bad childhood experiences and the general impression is also the idea that a visit to the dentist is both scary and painful. Nowadays there is little to fear from a visit to the dentist but still due to these negative impressions, many patients delay much-needed dental work out of fear. Carefully administered intravenous sedation treatment is safe with little risk for side effects. The greater risk is not having the work done leading to pain and sepsis."
Tariq Drabu continued "prior to the appointment we do a full case assessment including a detailed medical and social history; we then go through a full set of detailed written instructions that the patients are given prior to their treatment appointment. During the appointment, we monitor our patients to make sure that they are safe and comfortable. Our patients are relaxed during their treatment but they are also awake throughout their appointment and can communicate with our dental team, so the patient is in control. Most patients do not remember anything about their treatment and the feedback that we have received has been overwhelmingly positive."
Concluding Tariq Drabu said "we perform many difficult specialist surgical procedures in the dental CATS service. Treatment of patients with intravenous sedation allows us to treat our patients in calm, soothing environment, breaking their anxiety, building trust and confidence and allowing patients to get much needed dental work done. It is a win-win situation all round."