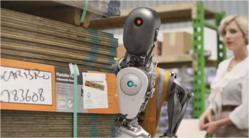 To get our little film into such a prestigious and industry focused festival is simply fantastic.
Auckland, New Zealand (PRWEB) February 11, 2013
Media Design School's 3D Animation & Visual Effects team is celebrating the success of its short film Shelved, which has been selected to premiere at one of the biggest festivals in the world - South by Southwest (SXSW) in Austin, Texas.
Media Design School's animated short films have enjoyed sustained success at international film festivals over the years including the Aspen Shorts Fest, Hollyshorts, Flickerfest in Sydney and Siggraph in Vancouver.
However, SXSW is the most high profile selection to date and a great way to kick off 2013, says director James Cunningham.
"The news came like a bolt out the blue. To get our little film into such a prestigious and industry focused festival is simply fantastic. It is great to have all the students' superb work recognised by the coolest festival around."
Shelved was shot in one day with all actors replaced by fully animated robots by a team of 11 Media Design School students as part of their final project.
About Media Design School
Media Design School is New Zealand's most-awarded private tertiary institution and distinguished by its close alignment to industry. The Auckland-based school offers specialist degrees for emerging creative industries including Bachelor of Art and Design (3D Animation and Visual Effects), Bachelor of Creative Technologies (Game Art), Bachelor of Software Engineering (Game Programming) and Bachelor of Media Design. A range of foundation diplomas and graduate qualifications are also available. Media Design School is part of Laureate International Universities, the world's largest private university group with over 65 universities in 29 countries, including dedicated design schools in San Diego, California, and Santa Fe, New Mexico, USA; Berlin and Hamburg, Germany; and Milan, Italy. For more information, visit http://www.mediadesignschool.com.