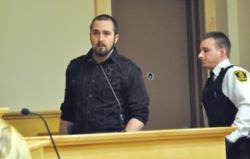 Morphine ranks in the top among prescription drug addictions
Miami, FL (PRWEB) February 11, 2013
DNA evidence finally linked a Canadian man to a daylight mugging on a walking trail in Newfoundland. During court proceedings, Jonathan Kelly said he had no intention of sexually assaulting the girl, but only wanted to take her stuff to sell to get money to feed his morphine addiction, from the Western Star on the 7th of February. He has been sentenced and will serve 3 years according to CBC.ca
DNA evidence led to his eventual arrest.
"It's a sad fact that many addicts will turn to crime to get money to support their habit. At the same time, they are probably buying morphine which was stolen from a hospital, pharmacy or ambulance service," said Andrey Rossin, founder and CEO of IntoActionTreatment.com , a Boynton Beach, FL, treatment center for drug and alcohol addiction. "It's a terribly vicious circle of crime and one which can only be broken by breaking the addiction."
Morphine ranks in the top among prescription drug addictions and it's also a common drug which addicts obtain illegally.
Derived from the poppy plant, morphine is commonly used in hospitals and ambulances as an emergency pain reliever. It's used in the hospital as well for after surgery pain relief.
"It is also easy for someone to become physically dependent on morphine," Mr. Rossin said. "Dependency is different from addiction because someone who is dependent does not crave the side effects. A dependent person, under a doctor's care, uses the drug to relieve chronic pain. An addict wants and needs morphine for the side effects and to keep withdrawal symptoms at bay. An addict will resort to extreme measures, like robbery, to feed his habit."
Beating an addiction like this one, requires intensive morphine addiction treatment. But no treatment program is going to be ultimately successful unless the person is also treated on a holistic level.
At Into Action, treatment programs deal with the addiction and the person, Mr. Rossin said.
"We work to help a person eliminate the behaviors which led to trying something like morphine and the resulting addiction. Study after study shows that support based programs have a higher success rate than someone trying to beat an addiction on their own," he said.
For more information visit http://www.intoactiontreatment.com or call 855-933-6732.
ABOUT INTO ACTION - Our goal is not only detoxing and getting rid off the withdrawals and obsession with desires, our goal for the client is to change their mindset, habitual patterns, enhance their spiritual connection and show them simple clear cut directions to get recovered.