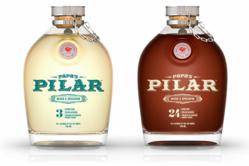 Papa would be proud.
Miami, FL (PRWEB) February 11, 2013
Inspired by Ernest Hemingway's appetite for adventure, industry icons today announced two new expressions of aged rum, according to Rob's Rum Guide.
Named for Papa's Pilar, the iconic yacht that served as his beloved vessel, here is a pair of spirits that faithfully reflect his adventurous spirit, his nautical muse and his irrepressible desire to challenge the untamed natural world.
Papa's Pilar Dark and Blonde rums have been inspired by his grand adventures on land and at sea. While Hemingway was a man of many passions, he was united with his one true constant in 1934. Pilar was a 38-foot Wheeler Playmate, a swashbuckler's yacht with a sleek black hull and a 75-horse Chrysler for serious cruising. She became his steadfast and loyal companion, traveling with him from one port of call to the next. He took this beloved boat to Bimini and all along the Cuban coast, seeking solitude, order, and the connection to the sea that was so vital to his craft.
Papa's Pilar Blonde rum is a surprisingly luscious light rum, not quite white in color. Blonde and beautiful it is -- as it stands alone with rich and gutsy tones of burnt caramel, citrus and smooth vanilla leading to a creamy tropical bouquet, presenting sultry spices and a unique warmth that separates it from the crowd.
Epic is an apt description for the Papa's Pilar Aged Solera 24 dark rum, offering bold flavors of Crème brûlée, rich vanilla, grandmother's baking spices and roasted coffee, accented by a hint of bourbon and sherry with a very long finish that leads one right back to the tasting glass. This unique blend of rums from the Caribbean, Central America and Florida reflects the myriad cultures, terroir and traditions of the dauntless traveler.
Papa's Pilar Dark rum, delivered in a stunning package that suggests a World War II canteen, is a respectably potent 86 proof. The cost for a 750ml bottle is $39.99.
Likewise, the three year old Papa's Pilar Blonde rum will never be considered demure at 84 proof. Priced at $29.99, it will surely turn heads -- as his wives often did.
The Hemingway Rum Company plans to first launch the brand in Florida, before bringing these new rums to numerous other states.