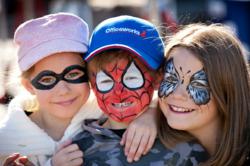 Hi Shelley, I just wanted to say a big thank you for all of your hard work last Sunday. We received such a wonderful response to how good the face painting was and what great designs you did.
Thanks again,
Lisa Hoersch, Veolia Environmental Services
Melbourne, Victoria (PRWEB) February 12, 2013
Artists with We Love Face Painting! came to the Latrobe Mini Golf course in early Februrary to help the staff there learn how to do face painting.
"Mini golf is a family activity and can be done by all members of the family who can swing a putter. Children especially love mini golf because of the crazy way the course is laid out. It's just a natural fit to have face painting at mini golf," said Shelley Bledsoe, owner of http://www.WeLoveFacePainting.com.au . "We were delighted to go help the staff there learn more about face painting."
The mini golf course now has face painting kits for sale as well.
"We're happy to visit across the Melbourne area for events," Ms. Bledsoe said. "We can come to birthday parties, family fun days, store openings and all kinds of other parties. We can even come to corporate events."
In addition to painting faces for fun, like at the mini golf, We Love Facepainting! offers face and body painting for image branding, marketing and entertainment.
"Image branding is very memorial when done on a body," Ms. Bledsoe said. "Professional models with logos painted on them at professional conventions and trade shows are a guaranteed attention-getter," she said.
We Love Face Painting! is based in Melbourne, Victoria. It was established by Shelley Bledsoe in 2007.
"With a background in Makeup Artistry, face painting was a natural progression. Our team thoroughly loves what we do and pride ourselves on our reliability, and quality work. Our face painting designs range from popular full face to cheek art," she said.
The best part of the work is how people react, she said.
"We love our work because it is such a great joy to make people feel special. We love how face painting makes us feel too! Our greatest reward is feeling connected to the community, we are privileged to share in your special occasions, and to meet people from all walk of life," she said. "We love to watch the magic of art impact on peoples' lives. It is our teams sincerest desire to provide each person we paint with a feeling of joy, satisfaction and personal value in the time we spend with them."