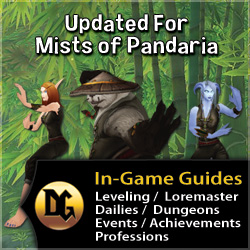 (PRWEB) February 11, 2013
WoW players can rejoice as Dugi Guides has just released their new Love is in the Air event guide for 2013. This guide covers all the quests and achievements for World of Warcraft's version of Valentine's Day.
This year, players can earn a ilvl 480 amulet for beating the Apothecary Hummel boss. This is a top tier amulet, so players will definitely want to work to unlock this piece, if not for their main character then definitely for their alts. Additionally, by completing the daily dungeon quest, players have a chance to get the Big Love Rocket, an epic mount only available during the Love is in the Air event for 2013.
Love is in the Air runs from February 10th until February 23rd, so players only have two weeks to complete all the quests involved. This can be a major problem for players as being away from the computer for just a week or two might mean that they miss the event entirely. This is a big deal for players working on the meta achievement for the year's events, as just missing a single achievement from a single event can force players to have to wait until the next year to unlock their achievement.
Dugi's Guide solves this problem by significantly reducing the amount of time it takes to unlock all the achievements associated with each WoW event. Unlike traditional text-based guides, Dugi's Events Guide is an installation on player's computers that guides them through the quests inside of World of Warcraft.
Upon installation, players can enable "Love is in the Air" mode, at which point a GPS-like arrow will appear on the screen and guide players through the fastest route to completing all of the achievements associated with this event. The entire event can be completed in just a few hours with the use of Dugi's Guide.
More details available at Strategy Guides HQ.