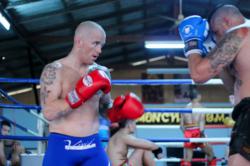 The difference between me and other people is not my ability. Its the people that I am surrounded by.

- Jon Delbrugge
Elkridge, MD (PRWEB) February 11, 2013
Coming off a second round submission victory in Cage Fury Fighting Championship, professional fighter Jon Delbrugge, will be heading off to Thailand to continue his training.
Mixed Martial Arts (MMA) fighters spend time training different skills so that they are capable in the many areas that comprise the sport. With that being said, few fighters take the time to engulf themselves in the individual arts such as wrestling, brazilian jiu-jitsu, boxing, and kickboxing to truly learn the disciplines and become proficient in them.
Jon Delbrugge, who currently competes in the Lightweight category of 155 lbs, has spent four long years on the Brazilian Jiu Jitsu tournament circuit traveling the world competing before ever fighting in one MMA fight. His reason for that is simple.
"When I started my journey towards being an MMA fighter I realized that you need to have a background in something. You have to come from some type of martial art so that you have a strong base. Something that you can rely on when you are in survival mode. For me I had a little bit of a wrestling background but it was not NCAA Divison 1 level. Between the striking and grappling I naturally caught on to the grappling aspects of martial arts. So my mentor Julius Park, owner of Crazy 88 Brazilian Jiu Jitsu Academy, helped me develop my Bjj and grappling abilities."
"I competed every other weekend of about 4 years straight. I have competed in the worlds biggest tournaments against the best guys in my category. I won. I lost. I did it all. The real purpose of all that was to develop a real skill in grappling. Of course I am not black belt world championship level but I am a grappling specialist. Its now time for me to add in some specialized striking. I have been working with a professional boxing trainer for a few months now and I will continue to travel to Thailand whenever I have a chance. I literally decided to go to Thailand this time around in a span of about two days."
" A few days after my fight I asked my Coach, Julius Park, if I could go back to Sitmonchai and he made some calls to make sure I had a place to stay. After that we bought a ticket and now I have to go home and pack!" Delbrugge said.
Delbrugge will be training at the world-reknowned Sitmonchai Gym, located approximately 1 hour outside of Bangkok, in Thamaka. A full-fledged professional Muay Thai kickboxing gym, Sitmonchai routinely produces fighters competing in Lumpinee and Rajdamnern stadiums, the toughest competition circuits in Thailand.
Most up and coming fighters in Delbrugge's situation do not have the luxury of picking up and leaving to Thailand on a whim or even train full time for that matter. Delbrugge explains and acknowledges that he is in a good situation,
"The difference between me and other people is not my ability. Its the people that I am surrounded by. I am absolutely blessed to be in the situation I am in. But make no mistake, I am here because I have taken advantage of every opportunity that has been given to me. Julius Park is my mentor, coach, best friend, boss, manager, whatever you want to label him as he is the reason why I have been able to do what I do. He has never just "given" anything to me. He has made me work for it. Once I told him what my goals were, he did everything in his power to give me opportunities to reach them. Whether or not I took advantage of the opportunities was and is on me. I also have to give my wife Jen, a lot of credit too. She owns a hair salon and is very successful and supportive of me and everything I do. At this point her main goal is to make sure I am doing everything I need to be doing to reach the top of my sport. Every day she is there helping me and pushing me. I go to Thailand for a good amount of time out of the year and she is totally on board. Without my wife and without Julius Park I don't think I would be where I am."
Delbrugge beams with pride when he talks about the people involved in his preparation's and training for fights.
When asked what exactly is his ultimate goal Delbrugge quickly answers, "To be a UFC champion. That is my goal. Being a pro fighter is not enough. Its too easy to be a pro fighter. I want to be a pro fighter in the worlds biggest organization fighting for the title of my weight class. If my goals remain high nothing I do until I reach that goal will be satisfying. Right now I am hungry my number one priority is to develop as a fighter. I realize my window is somewhat small and will not be open forever. Now is my time to get as good as I can and go for it. I have dedicated my self 100% to this goal so I will continue to remain focused"
Delbrugge's next fight will take place on May 11th in Atlantic City at the Borgata Hotel and Casino for the Cage Fury Fightng Championship MMA promotion (http://www.cffc.tv/).
He trains out of Crazy 88 Brazilian Jiu-Jitsu (http://www.BaltimoreMixedMartialArts.com) in Elkridge MD.