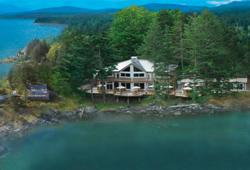 Wildcoast's new 7-day Orca Kayak Vacation Package combines the best of luxury and rustic outdoor adventure for the discerning traveler
Quadra Island, BC (PRWEB) February 12, 2013
Wildcoast's new seven day Premium Orca Camp vacation package now combines the luxury of a boutique west coast resort with a remote camping and kayaking experience to see Orcas in the wild for only $1545 CDN (tax not included). Trips offered June 29 to September 18.
The opportunity to see Orca whales in their natural habitat is definitely a Top 10 bucket list adventure for many and pairing it with a stay at a beautiful boutique retreat like Gowlland Harbour Resort provides an outstanding experience and level of service not offered by other local tour operators.
"This part of Canada offers truly spectacular wildlife, especially whales and other marine life. Paddling the waters deemed a critical habitat for both resident and transient Orca whales provides travelers from all over the world the best opportunity to see these majestic creatures in the wild!" enthuses Wildcoast co-owner and tour operator Valerie Glendenning. "Combining a luxurious stay and sumptuous gourmet meals with rustic outdoor adventure offers the best of both worlds for the discerning adventure traveler."
Killer whales migrate vast distances during the year, feeding abundantly in summer waters off the west coast of Canada. The whale population has been consistent in and around Johnstone Straight for many generations, however, given the increasing threats to their ongoing existence, there is no better time than now to book this 'bucket list' trip.
Guests begin and end their Premium Orca Camp vacation at Gowlland Harbour Resort where they are warmly welcomed and settled into their private room with king-sized bed and ensuite bathroom. The peaceful beauty of the Resort's waterfront location encourages visitors to reconnect with nature by wandering the property, relaxing in the outdoor hot tub or rejuvenating in the cedar sauna. Daily breakfast includes fresh, local ingredients and homemade baking. "We cater to travelers who enjoy the quiet serenity of a small island resort along with top-notch service and amenities. This is the perfect spot to unwind, take in the scenery and delight in delicious food," says Mariana Gabilondo, manager and executive chef at Gowlland Harbour Resort.
On day three of this adventure guests take a two-hour trip by water taxi to Wildcoast's remote Orca Camp where they spend four days camping in safari tents, eating delicious meals and kayaking while watching for whales whom often feed in the kelp beds just off the Orca Camp beach. Wilderness activities such as native-style sauna, swimming in the mountain-fed river and venturing out on exploratory hikes are also part of the fun.
Optional activities can be added during your stay at Gowlland Harbour Resort for an additional fee and range from golf and fishing charters to art studio tours, wine tasting and day hikes.
Quadra Island is located only minutes away by ferry from world-famous Campbell River and is part of the renowned Discovery Islands off the west coast of British Columbia, Canada. The Robson Bight (Michael Bigg) Ecological Reserve is located a few hours north of Quadra off the coast of Vancouver Island.
Wildcoast Adventures Ltd. provides kayak tours and vacations in Johnstone Straight, the Discovery Islands, and Desolation Sound in British Columbia Canada. Focusing on providing memorable outdoor experiences that combine spectacular scenery, scrumptious food and wildlife viewing for adventure travelers, Wildcoast is dedicated maintaining top-rated service for local and international clientele.