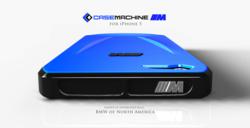 Melbourne, FL (PRWEB) February 12, 2013
Casemachine has announced their release of the Casemachine Apple iPhone 5 "M" case targeted towards BMW North America and BMW Motors. Several weeks ago, Casemachine designed and engineered an Apple iPhone 5 case for Volkswagen Group of America encompassing design elements of the last 25 years of Volkswagen cars into their Casemachine aluminum hybrid Volkswagen iPhone 5 case. Casemachine's Aluminum hybrid M case for Apple iPhone 5 features design elements of BMW M cars dating back from the 80's to the current day models.
Casemachine is a smartphone case manufacture located in Florida. Casemachine specializes in manufacturing premium Apple iPhone 5 cases, Samsung Galaxy Galaxy 3 cases, and Apple iPad cases, all made in the USA.
Casemachine states their aluminum hybrid M Apple iPhone 5 cases are constructed of part 6061 billet aluminum combined with high impact polymers to create an aesthetically pleasing aluminum hybrid Apple iPhone 5 case without compromising signal, or GPS issues found in most other aluminum cases for Apple iPhone 5.
The Casemachine M case is certainly a beautiful, innovative addition to the Casemachine Apple iPhone 5 collection. For more information regarding the Casemachine aluminum hybrid M case for Apple iPhone 5, and other cases made in USA by Casemachine, visit their website at http://www.casemachine.com.