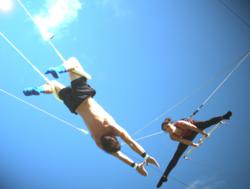 Learn to Fly, Achieve Greatness.
Orlando, FL (PRWEB) February 12, 2013
Looking for something fun to do in Orlando? In awe of Cirque Du Soleil? It's time to be shocked by the ease of one of its most captivating acts, Flying Trapeze.
Opening on Friday February 15th, Trapeze Federation offers flying trapeze instructional classes to participants of all levels, ages five years and older. This thrilling recreational activity is safe, fun, and leaves those who partake in it with an unparalleled sense of accomplishment.
In recent years, recreational Flying Trapeze has seen a spike in interest and media through its pop-culture integration. There are approximately two hundred trapeze set-ups in the US with an estimated one million participants last year. The activity has recently been highlighted in Modern Family, Sex & the City, Water for Elephants, This Means War, and as the center of both Louis Vuitton and Chanel's 2012 advertising campaigns. Celebrity fans include P!nk, Hugh Jackman, Bar Refaeli, Neil Patrick Harris, Kelly Ripa, and Mario Lopez.
Trapeze Federation is located in an open lot just south of International Drive at 7032 South Kirkman Orlando, FL 32819. Classes are offered Wednesday and Thursday at 4:15PM, Friday at 2PM and 4:15PM, Saturday and Sunday at 10AM, 1:30PM, and 4PM. Seeking a creative kids birthday party idea? Classes are available for children's birthday parties, corporate functions, and private lessons.
For more information, please visit Orlando Flying Trapeze by Trapeze Federation or call 407-985-2220.
Learn to fly, achieve greatness.