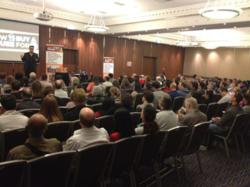 I love real estate and I'm most passionate about changing processes with property transactions because property affects everyone. It's such a big part of our lives
(PRWEB) February 11, 2013
Just like in 2011, the recent Queensland floods have affected coal production yet again. Recent news report giant open pit mines were breached with water flowing into the mines, affecting and delaying production for a month at the minimum. And just like two years ago, this is bound to negative economic impact soon.
Considering the economic pressures that the recent floods will surely bring to the country, property investors are advised to re-evaluate their strategies for the year. "During uncertain economic times such as this, real estate experts using traditional strategies are more likely to fly blind. This is why most of them are starting to reassess their strategies now," property innovator, Rick Otton, said.
Mr. Otton has been in the property investing industry for more than 30 years now and has witnessed numerous economic downfalls. He has seen how these floods could affect national economy. But because his property investing approach has always been considered innovative, he and his students stand afoot on these economic changes and continue to operate in a relatively stable market.
Otton's Innovative Property Investment Strategies
While other property investors are busy reassessing their strategies for this year, Otton and his students simply continue what they have been always doing – adjusting their innovative strategies to better solve people's property and funding problems.
Otton says it's all about changing processes. "I love real estate and I'm most passionate about changing processes with property transactions because property affects everyone. It's such a big part of our lives," Otton explained.
He developed these strategies to become independent on economic changes and be able to continuously help move people in and out of real estate regardless of the current financial situations.
"These are strategies are more about helping people and fixing their property problems creatively – whether they want to get out of their debts or own their first home. And this is why our strategies work even during uncertain economic times. We don't need to reassess our strategies. We just continue what we have been always doing – solving other people's problems," Rick Otton said.
Otton's students say the same about his strategies. "One of the biggest things I learnt from Rick is it doesn't matter what happens in the world – if I lost everything I owned right now I know I'm going to be okay. Because I know that I have the skill set to go and do it all again and I am going to have a lot of fun and I'm going to help a lot of people doing this at the same time," Tim Hart, one of Otton's students said.
Otton has been sharing his creative property investment strategies to people who are willing to step out of the box and see and do things differently. He has been teaching his strategies since 1991 and is continuously transforming property investors to transaction engineers.
In February 17, 2013, Otton is conducting a one-day training seminar at Mercure Brisbane to explain in full detail his creative real estate strategies and show exactly how he uses these strategies to solve the problems of both buyers and sellers.
To learn more about how to massively improve your investment strategies and avoid regularly reassessing them, come to this free one-day event by Rick Otton. Get more details at HowToBuyAHouseForADollar.com. Register for your free seats now.
About Rick Otton
Rick Otton has spent decades making money by snapping up inexpensive real estate and putting it to work building wealth. Now, he's teaching other Aussies how to do the same.
Otton is the founder and CEO of We Buy Houses, which operates in the U.S., U.K., Australia and New Zealand putting his strategies to work every day.
Otton got his start in alternative real estate investment in 1991 and within a year acquired 76 properties. In years after, Otton made a fortune using his low-risk, high-reward strategies to inexpensively acquire real estate.
Now, Otton wants to share the wealth by sharing the wisdom, teaching Aussies how to buy and sell real estate without cutting banks and other middlemen in on the deal.
Otton has been featured in a variety of television programs and magazines, including Today Tonight, A Current Affair, Australian Property Investor and more.
You can learn more about Otton and how to invest in residential real estate without using banks at RickOtton.com
Details of Mr Otton's free one day training events can be found at HowToBuyAHouseForADollar.com