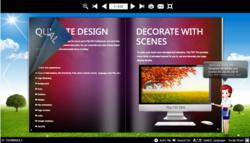 A good software must be functional, handy and simple to use, and it doesn't require a user to own too much professional skill.
(PRWEB) February 11, 2013
On Feb. 10, 2013, FlipBuilder.com, a leading software company, held an informal discussion on the development trends of flipbook software. Dozens of software distributors attended the discussion.
With the development of "page flip products", flipping books have become more and more important for many companies. Now, flipping books can be created with some clicks of a mouse, and they can be published to the web via email, and be read on the latest digital devices, like iPad 4, iPhone 5, html5, and so on.
FlipBuilder.com pointed out some development trends of flipbook software, and suggested some ways to help people to improve working efficiency. Alice Li, CEO of FlipBuilder.com said that it was important to choose a stable and qualified flipbook software provider.
Mr. Steven, CEO of a technology company, said that their staff was extremely inefficient in document processing. Through an interview, FlipBuilder.com knew that the customer had never used a flipbook software to deal with the documents. Another fact is that most overseas customers often use flipbook, instead of printed documents, to study business cases. Of course, the company could not catch up with the technology development trend, and keep up with many potential customers.
"A good software must be functional and handy, and it doesn't require a user to own too many professional skills, so that they can meet the potential users' requirements," said, Alice Li. "Our new product, Flip PDF, is exactly such a flip book maker, and it can provide a quick and easy way to batch convert traditional PDF to flipping book with amazing page flip animations and sound."
The Sharon has also got the support of several SEO companies, which shared the experience on marketing, and exchange opinions with each other. FlipBuilder.com expressed the hope to help the enterprises to develop the business through continuously updated flipbook softwares.