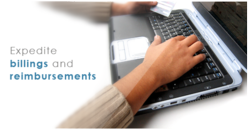 If mobile radiology business owners don't know whether their carrier's billing rates have changed, they could be losing hundreds or even thousands of dollars every month.
Ken Kern, MediMatrix VP
(PRWEB) February 14, 2013
For many radiology technologists, the new year brings annual confusion over Medicare billing rates. Sometimes the rates go up. Other times they go down. It all depends on which state the mobile radiology company is located in and the carrier they're dealing with at the time. The bottom line is: if mobile radiology business owners don't know whether their carrier's billing rates have changed, they could be losing hundreds or even thousands of dollars every month. Therefore, it is important to use accurate medical billing and practice management.
MediMatrix reminds mobile radiology companies to immediately check with their Medicare carriers on their rate schedules. Since Medicare doesn't announce news of rate changes, it's the providers' responsibility to get that information either by calling the carrier directly or visiting its website.
"It's really important for providers to stay on top of health care issues and what the legislature is doing. Not all rate changes happen by January," said Ken Kern, Vice President of MediMatrix. "Most providers don't have time to keep checking websites for changes in health care laws. One of the advantages of our MediMatrix medical practice billing software service is that we load rate schedules, and we make every effort to stay on top of issues that affect our customers."
A MediMatrix specialist discovered a $2 increase in the amount Medicare would allow for a procedure widely used by its customers. The $2 increase multiplied by hundreds or thousands of those procedures a month can mean a significant increase for the customers' bottom line. According to Kern, this is an example of how MediMatrix helps mobile radiology businesses run efficiently and have a positive impact on their customers' bottom line. Whether companies bill Medicare for thousands of procedures every month or for a few hundred, an increase in rates can positively impact the bottom line and more than cover the investment cost of the mobile medical software for the entire year.
MediMatrix experts have the experience and technology to keep their customers informed and successful in their medical billing and practice management. In fact, those experts found rate changes for a number of providers who weren't anticipating any because they'd read about a "zero percent rate increase" in 2013. Rates did change and they found out from MediMatrix.
To learn more about this online medical billing software and how it could help your mobile radiology business, contact MediMatrix at 888-346-3030 or visit medimatrix.com.