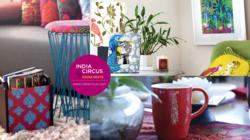 "India Inspired" Contemporary Lifestyle products by India Circus
(PRWEB) February 14, 2013
India circus launches their online store http://www.indiacircus.com internationally in over 200 countries worldwide.
Good news for all international shoppers, partners & fans across the globe. Internatiaonal shoppers can now shop India inspired contemporary lifestyle products from http://www.indiacircus.com. Associations with trusted partner alliances like Visa & PayPal for payments and FedEx International for Shipping, the online store offers a hassle free shopping experience.
India Circus, a contemporary design label offers affordable, Indo-centric, and sophisticated designs. The collections offer various life-style products, ranging from furniture and home decor to personal accessories. Lead by Devaki Khimji, Krsna Mehta, and Hadi Curtay, India Circus designs seek to introduce modern sensibilities to Indian aesthetic traditions.
With an All-Indian palette, India Circus draws inspiration from both Mughal Royalty as well as road-side chai, and then juxtaposes this image with that of an iPad, for instance, to create a Mughal themed iPad sleeve. The brand is a curation of diverse and distinct moods and tones that Mr.Mehta identifies as his vision of contemporary India. The vibrancy of colors and modern sensibility, combined with the nuanced heritage of the designs, makes each piece created at India Circus exceptional.
The product range includes Home Décor with colorful cushions, Picturesque Wall Arts, Elegant Magazine Racks, Vibrant Doormats etc.; Dinning and Kitchen Accessories consisting of elegant Table mats & Table Runners, stunning Mugs, printed vibrant Tumblers, Classy Trays etc.; Personal Accessories like Stylish Hand bags, Stoles, laptop bags, tablet sleeves etc. . The brand also offers an eclectic range of Furniture, Rugs & Fabrics. Every India Circus product is designed, cleverly understanding the style and sensibility of today's customers.
'Sophistication, with a dash of Indian-ness' is the thought behind all the creations, with the underlying aim of being aesthetically-designed, modern day, ethnic-chic products that are the epitome of Great Style. Great Quality. Great Price
What sets India Circus apart is the strategy to reach out to maximum number of customers across the world offering them a taste of India inspired contemporary lifestyle products through multiple retail models. The entire range of India circus available through the online store & are delivered in beautiful packaging.
indiacircus.com is an exciting and user-friendly online store offering design centric lifestyle merchandise that takes further the vision of the brand: Designing, discovering and showcasing a contemporary Indian aesthetic. "With the portal, we would like to create a distinct identity of contemporary India and its myriad colours, moods, motifs and people", adds Hadi Curtay of India Circus. A range of India Circus products are also available through various other multi brand online stores & department store shop-in-shops.
India Circus products & eGift Vouchers is perfect for the on-going season of festive gifting, weddings and special occasions. Another exciting feature about indiacircus.com is iLike, a unique application which personalizes online-shopping experience. Incredibly easy to use, iLike serves as an interactive wish-list that can be shared with friends & family. All that needs to be done is click on the ilike icon, select a board (wish list) or create a new board, the ilike icon turn pink when 'liked' and then can share the boards with friends & family on Facebook, Twitter or via email.
Ilike is perfect for brides as it allows to create a perfect wish list for the new journey they are going to embark. A helpful application for couples redoing their home. It helps to find that perfect house warming gift, anniversary gift etc.
"We are a dream come true for all lovers of things Indian, people having a keen eye for design & quality and for colour aficionados as well ", says Devaki Khimji, one of the Founding Partners of India Circus.
India Circus is for those who like a touch of style & design in their daily lives.