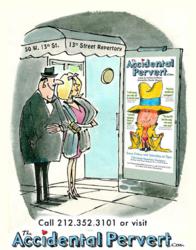 "The Accidental Pervert is one of those hidden gems of New York theater" - Liz Hoffman
New York, New York City (PRWEB) February 13, 2013
It's Friday night in Midtown, NYC, and Andrew Goffman, star of The Accidental Pervert, is getting ready to go on stage, shirtless and in boxer shorts. He says, "We're having a great run so far this year, even with the weather, and people are coming out looking for great entertainment. A lot of them end up here."
I wonder aloud what this has to do with Flight Attendants, and he replies: "Well, one of the things I always love about flying are the flight attendants. They're stylish, glamorous, and bring an intense professionalism to their work. I wanted to give something back to the men and women of the air, so I came up with the idea of inviting Flight Attendants."
It's an interesting idea – for a limited time, any Flight Attendant can come along to the play as Andrew's special guest, and bring a friend as well. It's Andrew's way of saying thankyou for their unique service, giving them an opportunity to visit one of the most happening parts of Manhattan when they have downtime in NYC.
Any Flight Attendants who'd like to take advantage of this special promotion should contact Andrew and The Accidental Pervert at reservations@theaccidentalpervert.com
See Andrew in The Accidental Pervert every Friday and Saturday night at the 13th Street Repertory Theatre, 50W 13th St (between 5th and 6th Aves). Tickets can be purchased online or by phoning 212-352-3101.
-----------------------------------------------------------------------
The Accidental Pervert is a laugh-filled show with a serious underlying theme. For three years, Andrew has been entertaining sold out crowds with the story of what happened after he found his Dad's stash of adult videotapes when he was eleven years old. He takes the audience on a comic journey through his porn-influenced eyes, to reveal how his exposure to pornography overshadowed his relationships with women for many years, until he finally became a loving husband and father.
The play is also running in Buenos Aires, with additional runs planned for Panama and other points north, south, east and west of New York City and wherever Perverts are found!
The show is directed by Charles Messina.