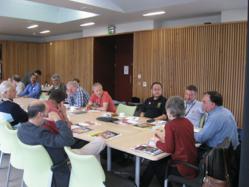 Almost half of employees feel that the companies they work for do not foster team working practices.
(PRWEB UK) 13 February 2013
A survey reported in HRzone on 30th January 2013 has shown that almost half of employees feel that the companies they work for do not foster team working practices – with over a third of staff preferring to work alone rather than share ideas and work cohesively with others as part of a team. This could have a detrimental effect on productivity, as organisational performance is linked to team cohesion and performance – and employees need training and support from their team leaders to improve teamwork. In fact, team leaders make a vital contribution in creating teams that function effectively – they can give staff clarity about their roles and ensure that the members know where they feature in the aims of the team.
Team working and social events are useful tools for team leaders to create the right conditions for their teams to flourish – and a great way of combining a meeting with social activity is to hold an event. The exact type of event, of course, depends on many factors: budget, the size of the team and the ability to get everyone together at the same time; then there are other things to consider, such as the interests of the team, in choosing the perfect event.
Techniques such as:

Action Learning where team meetings of 6-8 people problem solve specific issues using powerful questioning techniques leading to change and action.
Physical and cerebral challenges designed to foster: teamwork, initiative, creativity, problem solving.
Follow up techniques for post event reinforcement and action back in the workplace are brought together as a cogent package tailor made to the marketing need.
These days however, events don't just run themselves, they need to be filled with excitement and expertly managed and that means: venue / hotel selection and negotiation; managing ground transportation; food & beverage planning; entertainment and off site management; interactive energisers to enhance team cohesion ensure the audience is engaged and uplifted; security; adequate staff to support the event; ancillary and special functions; registration; hospitality/delegate desk; and management of extenuating circumstances
Fortunately, Full Circle Motivation can provide a solution to all these factors with its corporate team events and award ceremonies, which are tailored to businesses' exact requirements. Their bespoke, managed events provide employers with value for money, guaranteeing that people work together in exciting, challenging activities – and learn the value of teamwork, transferring it into their working life.