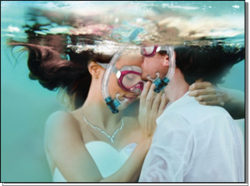 In 2000, the Guinness Book of World Records recognized it as the world's "largest underwater wedding ceremony."
(PRWEB) February 11, 2013
Mr. Leekpai noted, "Trang has long been known for its beautiful beach and diving. We also want people to know that our nature on land is also spectacular." Indeed, two mountain ranges – the Khao Luang and Banthat – are the sources of its two major rivers, the Trang and the Palian.
Tourists will be able to cruise down the Palian on one of 16 brand-new kayaks, guided by local officers, over a gorgeous five-kilometer stretch of river, which is also excellent for rafting. Additionally, visitors can make their way to the Sakai people's village on foot or by elephant.
Trang is best-known for its unique underwater weddings. This year, the Provincial Administrative Office has again teamed up with the local chamber of commerce and the Tourism Authority of Thailand to host the 17th Trang Underwater Wedding Ceremony between February 13-15, 2013.
This year, some 30 Thai couples have signed up to exchange vows underwater, including 2 Malaysian couples. Four of these couples are experienced divers, and they will sign their marriage registrations and kiss their new spouses underwater.
The wedding ceremony takes place near Koh Kradan, or Kradan Island, about an hour's ride out from Trang's coast; the coast itself a spectacular natural site, famous for its extensive mangrove forests. These "rainforests by the sea" have undergone extensive rehabilitation in recent years, regenerating this critical tropical ecosystem.
Trang's watery weddings have been taking place since 1996. In 2000, the Guinness Book of World Records recognized it as the world's "largest underwater wedding ceremony." These maritime marriages are but one of several Guinness listings for the effervescent Thai people, ever keen to put on a good show.
Couples participating in the ceremony have paid 35,000 Thai Baht per couple to tie their nautical knots, which includes accommodation, food, wedding dress, diving gear, and a three-day tour of Trang. Other packages are available annually without accommodation and for guests.
Contact information:
International Public Relations Division
Tourism Authority of Thailand
Tel: +66 (0) 2250 5500 ext. 4545-48
Fax: +66 (0) 2253 7419
E-mail: prdiv3@tat.or.th
Web site: http://www.tatnews.org