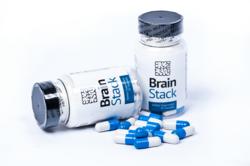 We pride ourselves on listening to our customers and creating products that work the way they want.
Scottsdale, Arizona (PRWEB) February 12, 2013
A company on the leading edge of advanced nootropics, Maven Labs announces the release of a reformulated version of its cognitive-enhancement supplement, BrainStack. The designers of BrainStack searched extensively for ingredients that could improve the effectiveness of the supplement. The reformulated version of BrainStack adds two new potent cognitive-enhancers -- Hericium Erinaceus (Lion's Mane) and L-Theanine. Lion's Mane was shown in a double-blind, placebo-controlled study to reverse cognitive impairment, and has been shown to decrease depression and anxiety and improve memory. L-Theanine has been shown in many studies to reduce psychological and physiological stress, improve memory and attention, improve reaction time, decrease mental fatigue, improve task-switching, and improve cognition and mood. Anticipation of the new formula has caused pre-orders to come in as soon as they were made available.
"I was skeptical about trying BrainStack at first. I work 60+ hour weeks between my day job and other projects. Mid-way through the afternoon I would always be struggling with my focus. When I first started taking these I didn't really notice a big difference. It took about a week before I noticed anything but the more I paid attention the more I began to notice the changes in my concentration levels. I was able to focus more while I was at work for longer periods of time without taking a break." - Charlene, Amazon Review
"We pride ourselves on listening to our customers and creating products that work the way they want." - Paul Baumgarthuber, Founder
Maven Labs emphasizes the importance of customer feedback in guiding product development and improvement. To motivate customers to provide feedback, Maven Labs has started making donations to the chosen charity of customers that provide reviews. They maintain that customers have given them invaluable insight into BrainStack's effectiveness. BrainStack is used by people from many industries and lifestyles. Designing a supplement that can work for a computer programmer, a student, and a working mother takes a lot of customer feedback. Maven Labs expects its customers will recognize the reformulated BrainStack as the most effective version to date.
Scheduled for release the first week of March 2013, BrainStack is available for pre-order now. Customers pre-ordering BrainStack before February 25, 2013 will receive a substantial discount. Pre-orders can be made at Maven Labs. For more information or questions, please contact us.