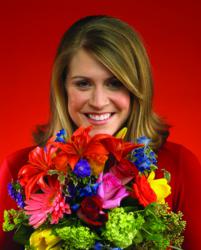 Valentine's week we're open 4 a.m. – 9 p.m, going 24/7 from 4 a.m. Wednesday, Feb.13 until Thursday Valentine's Day Feb. 14 at 8 p.m. Admission is free.
Los Angeles, CA (PRWEB) February 11, 2013
California Flower Mall, the top Los Angeles Flower District DIY destination to buy cheap Valentine's roses, is a procrastinator's paradise for last minute budget wise shoppers needing a discount flower market open 24/7 with fresh flower gifts up to 70 percent off retail prices.
Love is in the air all week as Los Angeles Flower District California Flower Mall serves up blooms for every gift-giver's budget. Cautious romantics aiming to lavish their sweethearts for less are supported by CFM flower petallers. DIY flower guys get tips on flower choices, arrangements, and love advice on new smart phone apps like twyxt.us, a social network for two that lets couples keep their Valentine's love aglow all year in a private, shared space without all the spectators.
California Flower Mall is the only wholesale flower market in the 8 block LA Flower District open convenient hours that fit working people's busy schedules and tighter wallets. "Valentine's week we're open 4 a.m. – 9 p.m, going 24/7 from 4 a.m. Wednesday, Feb.13 until Thursday Valentine's Day Feb. 14 at 8 p.m. Admission is free," stated Hilda Jimenez, California Flower Mall Operations Manager.
CFM is bursting with millions of gorgeous farm fresh discount and wholesale blooms from around the world. "DIY shoppers that buy discount Valentine's roses here don't sacrifice quality to save on prices," Jimenez added. "They're buying a dozen long stemmed red roses and discount Valentine's flowers direct from the farms, arranging them with the help of our vendors, and delivering the rose bouquet themselves."
No one needs to show up empty handed on Valentine's Day. "At these prices, thrifty shoppers can express their love and care with beautiful Valentine's flower gifts for their sweethearts, Moms, Grandmas, Aunts, Sisters and other loved ones and still have plenty left for a special dinner and other gifts," she said.
For CFM flower petallers, Valentine's Day is like Christmas. It's the second largest flower giving holiday of the year. One-third of Valentine's gift givers (36.6%) will give flowers, with total flower gift spending expected to top $1.9 billion, according to the National Retail Federation.
The 8 block Downtown Los Angeles flower market community is the floral distribution hub for much of Southern California. Gersain Bustos, President of Growers Direct at CFM, projects flower petallers district-wide will distribute 8-10 million Valentine's flowers a day through the holiday.
"Mother nature has cooperated with favorable climate conditions for Valentine's rose production worldwide this year. Growers do not have weather-related product shortages. There is always high demand for Valentine's red roses because of the short growing season after meeting Christmas demand," Bustos added.
The NRF reports Valentine's Day spending is expected to reach $18.6 billion nationwide. NRF research shows the average male will spend an average of $175.61 on jewelry, flowers, and a romantic evening out. Record flower spending continues to bloom. They project 2013 sales will increase slightly above record rebound spending in 2012.
Look like a big spender and plan a romantic Wednesday night rendezvous at California Flower Mall where she can pick her own favorite Valentine's flower bouquet. Celebrate your love during a leisurely stroll together in Downtown LA's dazzling feast for the senses as millions of colorful discount Valentine's flowers dance fragrantly in the streets and walkways.
About California Flower Mall: California Flower Mall, located at 825 San Pedro Street, is one of the largest premier DIY wholesale flower marts in the Downtown Los Angeles flower market neighborhood. The 8 block Los Angeles Flower District is the largest community of wholesale flower markets and flower businesses in the U.S. It is located in the LA Fashion District. Hilda Jimenez is an elected member of the LA Fashion District Business Improvement District Board of Directors.