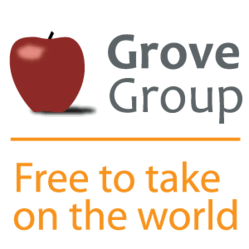 (PRWEB) February 13, 2013
Haymarket, an international specialist media and information company, joins a fast growing group of multi-national organisations that have switched to cloud computing services to support growth and improve business communications across the globe. Over 5 Million businesses worldwide have already 'Gone Google' and many organisations are moving to the cloud to empower their workforce, expand into new markets and increase the overall efficiency of service delivery.
Disruptive technologies such as Cloud, Social & Mobile have forever altered the way businesses operate. The result is a global marketplace where collaboration across the traditional boundaries of time zone and location, along with speed to market and business agility are the key features of a successful business. Haymarket, with 2,000 employees across 8 countries have chosen to leverage the collaboration and productivity powers of Google Apps, and with the experience and expertise offered by Grove, will deploy the cloud-based service to 14 locations across 2 continents.
Haymarket have 'Gone Google' to satisfy the following high-level objectives:
To improve communication and collaboration between global teams
To support rapid product development, innovation and enhance productivity within the group
To replace their existing Microsoft Exchange 2003 solution
To provide a platform where employees can stay connected, work together while maintaining high levels of quality, consistency and fueling the entrepreneurial spirit of the organisation
According to Haymarket's Group IT Director, Simon Turner, "There are many compelling reasons to switch to cloud computing services. Our decision was driven by a real desire to improve collaboration, innovation and to enhance productivity within the group. Google Apps was evaluated against competitor products and selected as the product suite that could help us do just that.
In planning to replace our existing Microsoft Exchange 2003 system, we calculated Google Apps would help us achieve key business outcomes at a competitive price. The decision to switch was carefully considered with both Grove and Google providing tremendous support during our selection process, ultimately Google's more open solution won the day."
Pip Witheridge, Grove's CEO is excited by this partnership with Haymarket, "there are so many ways that our cloud computing solutions will improve Haymarket's systems and processes, we expect to see a dramatic difference in their service delivery almost immediately. We are delighted that they have chosen us to be their cloud computing partner and we look forward to supporting them going forward".
About Haymarket Media Group
Managing 75 brands in 27 offices across nine divisions in eight countries, Haymarket Media Group is a truly worldwide media business. While Haymarket is intensely proud of its print heritage, its digital businesses are also thriving, along with its digital and content agency, live events, awards and exhibitions. Haymarket has five key values - independence, creativity, expertise, dynamism and integrity - that underpin one of the world's most adventurous publishing brands.
For more information on Haymarket visit http://www.haymarket.com
About Grove
Grove is a leading Cloud Service provider that specializes in the implementation of cloud based business solutions. We help businesses to define, implement and develop their cloud strategies, providing the bridge between their on-premise and cloud-based IT solutions. Grove is a leading Google Apps Premier Partner and Reseller and our highly skilled team of Google Apps Deployment Specialists and 24/7 Global Network Operations Centre (GNOC) give our customers peace of mind that, through us, their cloud services are deployed and supported to the highest of standards. Grove has offices in UK, USA and South Africa.
For more information on Grove Group visit http://www.groveis.com
#Grove Group +Grove Group
For more information contact:
Heather Thompson - Head of Marketing at Grove
heather@groveis.com
Tel: +44 870 224 0432
Emile Reymond -- Group Communications Manager
emilie.reymond@haymarket.com
Tel: +44 20 8267 4058