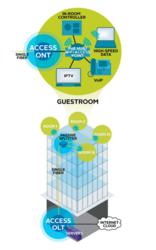 INFINITY ACCESS provides each hotel guestroom with 1Gbps of symmetrical carrier-grade capacity with no sharing of bandwidth.
Roseburg, OR (PRWEB) February 11, 2013
SOLiD, a publicly-traded global communications solutions innovator, is debuting INFINITY ACCESS™, a Passive Optical LAN (POL) Fiber-to-the Room (FTTR) solution which enables dedicated, symmetrical and secure high-capacity Gigabit Ethernet (1GE, 1Gbps) links to each hotel guestroom for delivery of next-generation IP-based voice, data and video services such as 4KTV. Currently under consideration for the Hotel Technology Next Generation (HTNG)'s Most Innovative Hospitality Technology Award, SOLiD is exhibiting at Table 24 during the 9th Annual HTNG North American Conference at the Westin Buckhead in Atlanta, February 25-28.
Based upon DWDM-PON technology (dense wavelength division multiplexing; passive optical network), INFINITY ACCESS provides each room with its own unique wavelength of carrier-grade 1Gbps upstream and downstream capacity that is completely transparent to voice, data, video services. This advanced approach eliminates the need to share bandwidth between rooms and maintains service among a sector even if one room is down for servicing. Upgrading bandwidth to 10Gbps can be managed on a room by room basis without affecting other rooms on the floor.
A single INFINITY ACCESS terminal currently serves up to 16 guestrooms on a single strand of fiber from the main switch. However, the Company expects to expand service capability to up to 32 guestrooms later this year. Additionally, INFINITY ACCESS is BYOS (Bring Your Own Switch), so hoteliers can keep existing hardware and readily upgrade Access Points or IP Phones.
INFINITY ACCESS lowers OPEX through SOLiD's patented true colorless INFINITY TUNABLE LASER™ technology. Plug-and-Play self-provisioning reduces turn-up of service to minutes, not days. And sparing costs are minimized because each transponder card uses the same colorless laser.
Technical advantages include:

Scalable to 10GE without replacing infrastructure/common equipment
Ability to allocate bandwidth and applications per wavelength
Extremely low latency, without jitter or packet loss
Carrier-grade
Protocol, service and end device agnostic
"Business travelers are using more and more bandwidth – by 2017, iGR forecasts that mobile bandwidth in the U.S. will grow six fold from 2012 levels – as they consume more HD video, as voice moves to VoIP and as video conferencing becomes common place," said Iain Gillott, president of iGR, a telecom market strategy consultancy. "The most economical way to enable the hotel guestroom of tomorrow is by delivering individual Gigabit Ethernet circuits to each room to support the business traveler's mobile devices. The WDM-PON approach unlocks the potential of Fiber-to-the-Room and achieves a low cost-per-bit.
"Hoteliers are challenged to provide multiple forms of high-end connectivity to their guests," said Seth Buechley, president of SOLiD. Our INFINITY ACCESS next-generation Passive Optical LAN provides ample bandwidth for today's needs and room for future growth. We look forward to debuting the SOLiD solution at the HTNG Conference."
About SOLiD
SOLiD empowers communications through innovative Distributed Antenna System (DAS), Optical Network Transport and Passive Optical LAN (POL) solutions that ensure capacity and coverage for cellular and public-safety throughout buildings, campuses and venues, enable Fronthaul / Backhaul for Small Cell and WiFi Offload deployments, and deliver carrier-grade Fiber-to-the-Room (FTTR) network capacity and reliability to facilitate next-generation voice, data and video applications such as 4KTV.
Learn more at the SOLiD website, read our blog and follow us on LinkedIn.
For further information please email info(at)solidtechusa(dot)com or call 888-409-9997.