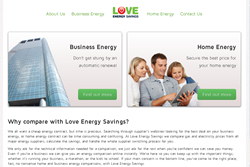 In minutes we can offer businesses an extremely accurate online energy comparison.
Bolton, Great Manchester (PRWEB UK) 13 February 2013
Love Energy Savings are pleased to announce the launch of their brand new website. The new engine is set to make waves for businesses all across the UK by saving them time and money on switching their energy supplier.
All businesses can get an accurate energy comparison online without having to provide any personal details. That means businesses can compare business energy prices at their leisure without having to wait for someone to call them back, much the same way as they do for home energy comparisons.
Once a comparison has been generated, the business then has the option to provide Love Energy Savings with contact details so they can get in touch and switch their energy supplier.
The new website boasts a simple and professional design making it extremely easy to navigate, as well as providing useful information for both homes and businesses about the energy industry, their bills and how to switch suppliers.
Love Energy Savings aim to be a fast, no-nonsense, honest energy comparison company and have made large investments in the new site and business comparison engine to make this possible. Bill Hodder, Head of IT and Online said, "We've been putting in a huge amount of effort into the new engine and I'm really proud of the work that's been going on here at Love Energy Savings." He also added, "It's very exciting. In seconds we can offer businesses an extremely accurate online energy comparison, saving thousands of business owners time which could be better spent running their business."
Love Energy Savings' new business comparison tool is available at http://www.loveenergysavings.com.