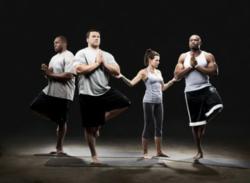 It is so important to me to be associated with people and businesses that still take pride in what they do and how they connect with people. YogaVibes is that company, and I am honored to be a part of it.
Charlotte, NC (PRWEB) February 14, 2013
YogaVibes, a leading distributor of online yoga classes, is incredibly excited to partner with Gwen Lawrence.
Known for being a visionary in the world of Power Yoga for Sports, Gwen Lawrence has worked with clients such as Alex Rodriguez, Amani Toomer, and Brian Cashman (to name a few). Additionally, she is the yoga instructor for 5 pro sports teams in New York, including the New York Giants, New York Knicks, New York Red Bulls, and the New York Rangers, in addition to major college teams such as Yale and UNC.
Gwen's unique combination of dance, massage and yoga training experience, coupled with her extensive knowledge of anatomy and nutrition, provides her students and athletes with overwhelming benefits.
"I chose to partner up with YogaVibes because when I saw what they were doing and how they were enabling Yogis to connect with teachers that they may never have the opportunity to connect with, I knew it was for me," says Gwen. "As a Yoga teacher, you want to touch many peoples lives all over the world. Moreover, when I met the Founder, Brian, I then knew it was a home run. I immediately felt a part of his family and was super impressed by his integrity. That is so important to me to be associated with people and businesses that still take pride in what they do and how they connect with people. YogaVibes is that company, and I am honored to be a part of it."
YogaVibes is deeply honored to welcome Gwen to its growing family and offer her sports-specific yoga classes to a larger audience of yogis and athletes. Check out her latest online yoga videos, featuring 4 sports-specific flows:

In this online yoga class, Gwen will demonstrate techniques that she uses when teaching the NY Red Bulls. Learn to open the entire leg from the quadriceps and hamstrings to the ankles, calves, and toes. Due to the demands on the field, Gwen will provide ways to maintain a flexible and strong back that is able to rotate better, enabling the player to see over the shoulder to protect the ball.
This online yoga class offers all runners, from the avid runner to the weekend warrior, an amazing complement. Practice opening up the legs and holding stretches longer to really dig in and get faster results. Learn to detect and address imbalances before they lead to injury.
In this online yoga class, Gwen will shed light on the techniques she uses when teaching LPGA players. Learn to keep the hips and back flexible and strong, increasing the power required to strike the ball. Gwen will address the importance of keeping a balanced, symmetrical body to maintain health. Work the shoulders and wrists to help perfect form.
Different from speed and agility positions, linemen are known for strength and stability. In this online yoga class, learn how to open the hips and find comfort in a deep squat. Address the shoulder joint to effectively absorb great force when blocking. In addition, Gwen will teach easy ways to protect the wrist joint, making it stronger, more flexible, and giving it greater power to push and also protect itself in the event of a fall on the field. Take advantage of all the same techniques Gwen uses when teaching the New York Giants!
In addition to these online yoga videos, Gwen will also be offering more sports-specific flows of varying lengths and themes, including classes for skiing, football (speed and agility), tennis, baseball, horseback riding, hockey, basketball, swimming, and more. Stay tuned for more of Gwen's sports-specific yoga videos!
About Gwen Lawrence
Gwen Lawrence is well known for her sports-specific Power Yoga for Sports classes and training programs. Her writing appears in Men's Health, Women's Health, Fitness Magazine, Shape Magazine, Yoga Journal, Cosmo, Details, Shape.com and ESPN.com. She makes regular appearances on NBC's TODAY Show, Good Day NY, and Dr. Oz. She was featured in June ESPN Magazine as the "Best Innovation in Sports Medicine."
To learn more about Gwen, please visit her website at http://www.gwenlawrence.com.
About YogaVibes
Looking for the best online yoga classes? Look no further! YogaVibes.com is an online realm for high-quality, authentic yoga classes and instructional videos captured in a real studio with real students. YogaVibes offers a diverse selection of online yoga classes from the best yoga teachers in the world, making learning and living yoga easy in everyday life. YogaVibes' mission: To create a supportive, challenging, and welcoming online community of passionate and inspiring yogis.