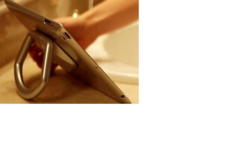 The ergonomic design is crucial in keeping the iPad secure while allowing users to multitask comfortably.
Bellevue, Wash. (PRWEB) February 11, 2013
Innovative Accessories announced the launch of their new iPad case today. The iPad case will be available for purchase on the companies kickstarter page tomorrow. The Duet is the multipurpose hand-held iPad stand created to provide ease and comfort to users whether they are seated at their desks, lying down in bed, or even on the go.
This one-of-a-kind accessory comprises two parts - the multifunctional hand-held iPad case and floor stand. The handy case is fastened to the floor stand but can also be easily detached and used independently. It is Smart Cover friendly and suited for the second, third and fourth generation iPad.
The elegantly designed Duet floor stand allows users to work on the iPad hands-free. Made from high-grade metals and plastics it weighs 5 lbs. and is perfect for use while sitting on a favorite chair. As it is adjustable, it can also be used while standing or lying down in bed.
The easy snap on hand-held carrying case is created from polycarbonate (PC) and acrylonitrile-butadiene-styrene (ABS) materials and weighs about 7 oz. making it light-weight and portable. It features a sleek, ergonomic design with built-in handle that also functions as a stand, which makes it convenient to carry and holds the iPad securely in portrait or landscape mode. This allows the case to be hooked effortlessly to the floor stand, too. It is simple to adjust to fit any position users prefer and enable them to multitask.
Duet's iPad case is great for hands-free use in the kitchen. Prop it up on the counter top or even hang it on the cupboard knobs. It is also ideal for typing when placed on top of a table and perfect for watching movies while in bed. It can even be used on the airplane tray table. It is suitable for taking photos or videos with the iPad as it fits well into the hand.
"The idea behind Duet is to be able to hold and work with the iPad in the most convenient manner while sitting on the desk or couch, standing or walking around, or lying in bed. The ergonomic design is crucial in keeping the iPad secure while allowing users to multitask comfortably. After two years of working on this project and perfecting it, I am proud to launch Duet through Kickstarter, the funding platform I have chosen to bring this vision to reality," related entrepreneur Amir Kerawala, who designed and developed Duet.
To know more about Duet, see a demo, and support this project, please visit the official entry on Kickstarter at http://www.kickstarter.com/projects/duet/ipad-case-and-floor-stand