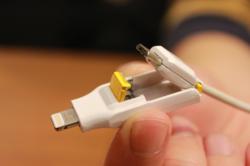 A half-open microUSB design for the first ever transforming iPhone cable!
(PRWEB) February 14, 2013
Ever since Apple released the new Lightning connector, iPhone 5 and iPad mini users have sought a simple cable that combines both a Lightning jack and a microUSB jack. They want a product that looks great, and isn't as easy to lose as the small external adaptors currently on the market. The Orobis Transform, a project currently crowd-funding on IndieGoGo, is exactly what Apple fans have been looking for.
The Orobis team has just released a new perk level offering supporters their own Orobis Transform cable (comes in black and white) for only $18.
The Orobis Transform is supported by a patented half-open microUSB technology. The cable supports both microUSB and Lightning connectors. At first glance, people may think that the Orobis is just another Lightning to USB cable, but when they initiate its easy two-step transformation, they'll find a microUSB tip concealed discretely inside. Orobis' two switchable jacks are connected by dual axes to ensure the adaptor is never dropped or lost. The design concept is inspired by the hit movie Transformers.
The mold for the half-open microUSB is a high-end technology, and costs significantly more than the plastic mold required to design ordinary products. Consequently, the high cost of the mold required for the Orobis Transform is beyond the budget of the Orobis team. This is the very reason the Orobis Transform IndieGoGo campaign is being held. In order to help realize the project, the factory helping to build the Orobis Transform recently volunteered to supplement the cost of production. With the help of their factory, the Orobis team is now able to offer the Orobis Transform cable, a retail value of $29.99, for a mere $18.
The name "Orobis" is derived from the Greek Ouroboros, a snake which eats its own tail. Ouroboros has represented re-creation, re-invention, and new beginnings since ancient times, and is the spirit at work behind the Orobis Transform. The Orobis team constantly seeks to strip products down to their bare essentials, and re-create them in radically simple, more beautiful ways.
The Orobis team still needs supporters to step forward, so please take a look at the innovative Orobis Transform over at http://igg.me/at/orobis-transform/x/1853289/, and pledge $18 or more to receive one of the first transformer-like iPhone cables ever developed!
Media Contact:
John Hsiang
joanneshsiang(at)gmail(dot)com