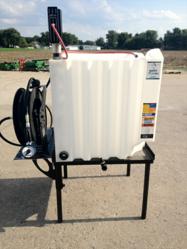 "The Tanks are remarkable. They are much more economical than buying individual drums" Chris Savener
(PRWEB) February 19, 2013
AHW LLC, a John Deere dealer serving northeastern and central Illinois announces today the expansion of their John Deere bulk oil program. They are now offering direct to farm or worksite delivery of bulk oil. This new service will be available to any producer in the AHW trade area.
According to Chris Savener, Aftermarket Manager for AHW, the new program will offer producers some important operational advantages. "First and foremost, we will be able to save our customer money" he said. "The Bulk Oil program has some unique opportunities and advantages that will be attractive to our customers. This is an easy process. Implementing the use of our stackable tote tanks is faster and simpler than dealing with drums. The tanks are mobile, easy to meter and environmentally friendly."
"The tote tanks are remarkable," Savener continued. "They are much more economical than buying individual drums or pails. Fewer containers make bulk oil an environmentally friendly option. And, there won't be the problem of what to do with empty containers. That eliminates careless container disposal and reduces the likelihood of soil contamination. Our totes are sturdy, reusable and environmentally correct for storage and dispensing."
"We believe the new direct delivery to the farm or worksite program will be a service that many producers find beneficial. With our ten locations, we are able to quickly and efficiently deliver to our customers anywhere from I-70 all the way to Kane County," Savener said. "This is a huge advantage because it will save time and expense for the producer. We believe the benefits of this program are tremendous and will help our customers succeed in the field."
AHW's customers can choose Totes in 70 or 120 gallon sizes. Each tote can be equipped with brass valves, poly valves or select a pump and a hose kit to complete the system. For accurate measurements when servicing equipment, pumps and meter guns provide precise factory recommended amounts.
The totes are also mobile when steel casters are added. This allows the user the freedom to move anywhere it is needed. This simplifies the entire process and saves time and manpower versus a drum unit. And this mobility completely eliminates having to lift and maneuver heavy drums.
Regarding the oil, Savener said that the John Deere Oil has an advantage over other brands as it was developed alongside John Deere engines and is a superior choice to generic brands. Plus it is guaranteed to meet or exceed the requirements of the John Deere engine.
For more information about the program, click here to view a short video.
As the region's largest John Deere dealer, AHW LLC delivers a full range of equipment, products, and services to agricultural producers in Northeastern and Central Illinois. As a John Deere dealer, AHW LLC can help producers increase productivity, efficiency, and profitability. Access to all of their products and services can be found at http://www.ahwllc.com.
For more information, visit http://www.AHWLLC.com
Contact: Chris Savener
Aftermarket Manager
AHW, LLC
217-903-3668
csavener(at)ahwllc(dot)com