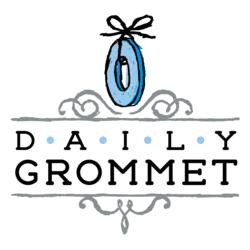 Poppy Drops tattoo earrings are fun, fresh and filled with personality (they work on skin and fingernails, too).
Lexington, MA (PRWEB) February 11, 2013
Daily Grommet, an online shopping site and product launch platform for innovative and undiscovered products has partnered with mom entrepreneur to launch Poppy Drops, temporary tattoo earrings for girls.
Many parents can relate to the dilemma of whether to pierce their daughter's ears. That inspired Shelly Coffman, a Colorado based mompreneur to create Poppy Drops. Her daughter started asking to get her ears pierced when she was three years old, but Shelly felt she was too young. Stick-on earrings are frustratingly un-sticky, so Shelly tried cutting pieces of her son's temporary tattoos and applying them to her daughter's ears. It worked. With that discovery, Shelly's creativity took off and Poppy Drops was born.
Temporary tattoo earrings mimic the look of piercing, but without the pain, permanence or risk of infection. For kids, the designs are perfect. Poppy Drops tattoo earrings are fun, fresh and filled with personality (they work on skin and fingernails, too). For parents, it's the health and safety of the tattoos that matters. Shelly's tattoo earrings are made with food-grade vegetable dyes, and they're manufactured in California.
Poppy Drops' starter pack includes 36 pairs of earrings and applicator, and the party pack bundle has eight mini pots (each with three pairs of earrings), eight bags, and an applicator. If your kids are curious about piercings but they're not ready for the needle, try Poppy Drops. It's an easy, worry-free way to let kids express themselves.
About Daily Grommet
Daily Grommet is a highly curated online,marketplace and launch platform for products of great utility, style or invention that haven't hit the big-time yet. Daily Grommet seeks out these unique products, carefully tests them, and produces a video review of each one telling the story behind its creation. Daily Grommet is rooted in the philosophy of Citizen Commerce whereby regular people form the commerce experience by suggesting products that reflect their values and interests. Citizen Commerce turns the typical top down retailer approach sideways, encourages global product innovation from small producers, and satisfies the consumer's need to know the stories behind and origins of favorite products. The company was also just named one of the hottest sites of 2013 by Internet Retailer. For more information, visit http://www.DailyGrommet.com.