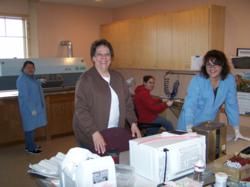 "Growth and improvement prompted us to make the change."
John Talbot, Director
(PRWEB) February 14, 2013
The newly renovated space is three times larger than the previous space, allowing for increased staff and equipment. John Talbot, Director of Sales & Engineering, says "Growth and improvement prompted us to make the change. We added staff in 2012 to accommodate the growth in the assembly portion of our business and equipment to improve our efficiency and increase capabilities."
To accommodate their expertise in the assembly of flexible circuits, Tramonto added a semi-automated assembly line in the spring of 2012. It increased capacity and output as well as opened up new opportunities that were not available with previous capabilities. The assembly area was cramped and manufacturing cells were spread out. The new space allows Tramonto Circuits to keep the assembly teams together in cohesive cells. That results in better collaboration, efficiency and quality control.
The decision to renovate as opposed to relocate was simple. Tramonto Circuits' current location is close to the Twin Cities freeway system which allows customers easy access to the facility, as well as airports, hotels and restaurants. "The other reason is the community we reside in", says Talbot. "It is a fast growing community with all the resources a company requires to succeed and grow."
The new space also allows room for growth. Tramonto Circuits projects that the assembly department could double in size within the new space. This, they say, should accommodate projected growth for two to three years.
About John Talbot:
John has nearly 35 years of experience in the electronics industry. His experience encompasses product design, development, quality and regulatory. He has spent the past 10 years in business development and engineering.
About Tramonto Circuits:
The mission of Tramonto Circuits is "to consistently provide its customers with high quality electronic products and services that meet or exceed their expectations." A manufacturer of flexible & rigid printed circuits, Tramonto provides circuits and assemblies to Original Equipment Manufacturers worldwide