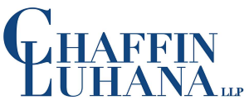 New York, New York (PRWEB) February 12, 2013
Chaffin Luhana LLP, a national plaintiffs-only law firm, announces it is investigating claims related to Mirena IUD perforation, infection, embedment, and other potential health complications. As of June 2012, the FDA had received a startling 45,000 adverse event reports related to the Mirena, with women complaining of serious injuries like organ perforation, ovarian cysts, and tearing of the uterine wall.
According to court documents, manufacturer Bayer originally marketed the Mirena IUD as a more convenient option for busy women who didn't want to worry about taking a daily birth control pill. The device is a small, t-shaped plastic object that is professionally inserted into the uterus, where it gradually releases the progestin "levonorgestrel" to prevent pregnancy. A long-acting birth control solution, it is advertised as lasting up to five years, but many women have experienced dangerous side effects long before that.
In December 2009, the FDA issued a warning letter to Bayer, accusing the company of overstating the benefits of the Mirena, while minimizing the risks. They noted that Bayer had organized in-home promotional events in which the Mirena was lauded as a way to improve a couples relationship and sex lives, and had told women that the device would help them "look and feel great," even though there existed no scientific evidence that the Mirena could do any of these things.
Women across the nation are now coming forward with their complaints. Many have already filed a Mirena IUD lawsuit, claiming that Bayer failed to warn about the serious health risks associated with its product, and was negligent in conducting important safety studies. A Missouri woman, for example, claimed that the Mirena perforated her uterus and then migrated outside it to cause extensive damage. She had to go through laparoscopic surgery to have the device removed. Represented by her Mirena IUD lawyer, she filed her case on November 30, 2012, in the Superior Court of New Jersey, Morris County. (Docket No. MRSL-2928-12)
Chaffin Luhana is aware of several serious injuries related to the Mirena, including migration of the device out of the uterus and to other areas of the body, where it may cause damage like infections, bleeding, and Mirena IUD perforation of other organs like the bladder, bowel, and intestines. Additional complications may include tearing of the uterine wall, ectopic pregnancy (outside of the uterus), and infertility.
Chaffin Luhana LLP has a long and successful history of protecting the rights of those affected by the serious side effects of pharmaceutical drugs and medical products. Partners Eric Chaffin and Roopal Luhana handle high-profile cases in federal and state courts across the country, and provide new online resource centers for clients and the public. To date, Mr. Chaffin and Ms. Luhana along with co-counsel have been involved in recovering over $900 million for injured consumers. Both have been named to the prestigious New York Metro Super Lawyers list, and though unable to guarantee results, the firm has a distinguished track record of success and is highly committed to each case.
If you or a loved one has suffered an injury that may be related to a medication or medical device, contact Chaffin Luhana LLP for a free and confidential case review at 1-888-480-1123, or visit their website at http://www.chaffinluhana.com.
CONTACT
Eric T. Chaffin, Esq.
CHAFFIN LUHANA LLP
600 Third Ave., 12th Floor
New York, New York 10016
Toll Free Telephone: (888) 480-1123
Toll Free Fax: (888) 499-1123
Attorney Advertising. Prior results do not guarantee or predict a similar outcome with respect to any future matter.