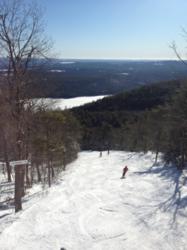 Conditions are perfect for skiing or boarding
Bridgton, ME (PRWEB) February 13, 2013
The record-setting Nor'Easter that blanketed New England with snow has created superb ski conditions at Shawnee Peak Ski resort.
"It's hard to say just how much actually fell up here, because the wind moved it around a bit, but I'd estimate at least 18 inches," said Shawnee Peak General Manager Ed Rock.
Right now the resort boasts a 32" base along with the 18 inches of fresh powder.
With many schools out for vacation next week the timing of the storm couldn't have been better. Right now Shawnee Peak is planning a family focused school vacation week where a family of four skis for just $186 any day! (One must be a junior)
For more information on special packages and events, head over to shawneepeak.com
"Conditions are perfect. We are looking forward to a fun President's Day weekend coming up," said Rock.
About Shawnee Peak: Shawnee Peak is a privately-owned, family ski resort in Maine. Celebrating it's 75th year of operation, the mountain boasts 98% snowmaking, 1300 feet of vertical drop, 239 skiable acres, 40 daytime trails and 19 lit trails for night, as well as two terrain parks.
The mountain is family-driven, affordable, and provides skiing and riding for all levels and abilities. To learn more about the mountain and special offers, visit http://www.shawneepeak.com.