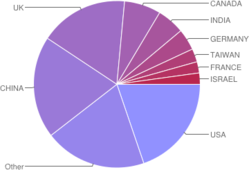 Advertising and Online Marketing Explodes.
Gloucester, MA (PRWEB) February 14, 2013
Representatives from Computer Review announced today the advertising and online marketing sector of the global knowledge economy has exploded, creating a demand for business information on everything from advertising effectiveness to mobile computing models and more. A service that cuts out 95% of the search noise and gives subscribers exactly what they want is a service every organization and business needs.
This is news because Computer Review is the comprehensive one-stop resource to the knowledge economy. Subscribers enjoy unlimited access to new material and daily updates with answers to their business intelligence needs. In the Advertising and Online Marketing sector alone Computer Review monitors 1509 companies and 686 management teams and makes available information on podcast advertising, audience management and much more. Computer Review's subscribers include government and educational organizations and large and small companies.
The details found in original sources serves as information subscribers must have if they want to successfully navigate today's fact-paced Advertising and Online Marketing environment. The database not only includes the dominant US advertising companies, but includes companies globally from Germany, China, India, France, Israel, Canada and the UK. Fully 75% of the Advertising and Online Marketing knowledge at Computer Review comes from international sources. If a subscriber wants to know what's going on in predictive analysis, for example, they will benefit greatly from the global discussion.
Subscribers interested in the Advertising and Online Marketing sector can use the information for personal interest and profit by identifying companies and monitoring the information flow. Computer Review's Knowledge Economy Selection Chart helps subscribers navigate through topics of interest like press releases, market information, executive status, available jobs, blogs and global concerns.
Company original sources are one click away and include access to information on search engine optimization, social media and application development. Information on the company's philosophy, professional associations and social media monitoring are accessible. If subscribers don't understand what an online marketing and advertising company does or where they're going, Computer Review can provide the original company sources. The information on pay-per-click marketing efforts, interactive content and word of mouth advertising is available to Computer Review subscribers.
Indoctrination into the mobile application platforms, mobile content marketing and mobile messaging and marketing can be difficult. To grasp and engage it even at a basic level can be daunting. If one service could cut out the 95% of the clutter and make the information available in an intelligent and coherent way, then the globe would discover Computer Review.
Computer Review's ActiveTrak System monitors 30,000 companies and organizations of which 1509 represent the advertising and online market. Social networking services, targeted ad placements and online brand promotion require a high level of information to be effective. College Universities as well as Government and Corporate Libraries are counted among Computer Review's subscribers.
Do a search on any advertising and online marketing topic and imagine a service that cuts out 95% of the noise. Subscribers get exactly what they need. Computer Review brings original company source material to its subscribers.