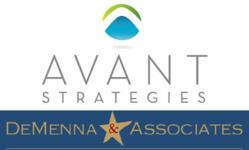 "The strength of this alliance is built upon individuals with decades of recognized experience in major markets across the country. The result is a bold vision for both organizations that will offer our clients something very special."
Phoenix, Arizona (PRWEB) February 13, 2013
DeMenna & Associates, one of Arizona's most respected and established government relations firms, and Avant Strategies, a successful Phoenix-based strategic communications and marketing firm, have joined forces under the leadership of Ivan Johnson, former Cox Communications senior executive, who will lead the new alliance as Chief Operating Officer.
"What we have created is new, unique and exciting. Our team has the talent and the confidence that comes from years of proven success," says Johnson. "The strength of this alliance is built upon individuals with decades of recognized experience in major markets across the country. The result is a bold vision for both organizations that will offer our clients something very special."
Both entities in this new partnership—Avant Strategies and DeMenna & Associates—will operate as independent firms, but will work together to offer clients an unprecedented array of services. This integrated approach will provide clients with options that can only be found through this collaborative model that is the basis of Avant Strategies and DeMenna & Associates.
Johnson will lead both organizations as chief operations officer. Johnson is a fourth generation Arizonan, who joined Cox Communications in 1980 as vice president of franchising. During his 32-year tenure with Cox Communications, he served as vice president of community relations and vice president of public affairs and business development. He has been involved in numerous influential community organizations, having served as chairman of the Phoenix Chamber of Commerce, chairman of the Arizona Chamber of Commerce, chairman of WestMarc, and as secretary of the Greater Phoenix Economic Council.
Kevin DeMenna leads DeMenna & Associates, a well-known and respected government and public affairs firm serving multiple local and national clients. Prior to forming DeMenna & Associates, DeMenna was a partner in the successful public relations firm Robb, DuVal & DeMenna. Last month, "Campaigns & Elections" named DeMenna as one of Arizona's 10 most influential political consultants. He continues to be among the most sought after public affairs strategists in Arizona, and has built a strong reputation for success over more than 30 years of practice.
Joining the DeMenna & Associates as a senior consultant is Kevin Moran. Moran has more than 25 years experience directing external relations and strategic communications on behalf of clients as diverse as health care providers, Native American communities, and Fortune 500 companies. Moran most recently served as vice president of human resources at Cox Communications, but also worked as director of public affairs where he pioneered state and local public affairs practices that are now company-wide standards. Prior to joining Cox, Moran was vice president of Landry, Moran & Creedon, Inc., where he managed the successful passage of statewide voter initiatives in 1996 and 2000. He also worked as an attorney for Teilborg, Sanders & Parks in Phoenix.
Avant Strategies is led by Marco Ceglie, a New Jersey native and graduate of Arizona State University. Ceglie, Avant's President, has cultivated a national reputation for developing cutting-edge marketing strategies, utilizing such strategies as "Culture Jamming" to engage audiences and raise awareness for his clients. For more than 20 years, Ceglie has produced messaging, branding and viral awareness campaigns for both non-profit and commercial clients in some of the nation's most significant markets, including New York City, San Francisco and Washington, D.C.
Another key member of Avant's leadership team is Andrea Smiley, an award-winning and accredited communicator and strategist, specializing in community relations, public affairs and strategic communications. For nearly 25 years, Smiley has led efforts in Arizona and nationally, most recently, in her role as vice president of marketing for Magellan Health Services' behavioral health division. As Avant's vice president of strategic communication, she is a strong advocate for the value and strength of strategic relationships and corporate social responsibility in driving organizational success. Prior to her work at Magellan, Smiley served as chief community relations officer for Magellan in Arizona; associate executive director public affairs and external relations for the Arizona Board of Regents; assistant vice president of communications for the Arizona Medical Association; and, public information coordinator for the City of Scottsdale. Smiley is also a faculty associate at Arizona State University's Walter Cronkite School of Journalism and Mass Communication.
"We have assembled a team of top-flight professionals from two exceptional companies. Every member of this team is committed to serving our clients and delivering success in unique and innovative ways," says Johnson. "With our depth and breadth of expertise, we have created a model that will lead to extraordinary results for the clients we serve."
To learn more about DeMenna & Associates, visit http://www.demenna.com. To learn more about Avant Strategies, visit http://www.chooseavant.com.