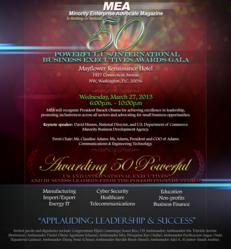 Applauding Leadership and Success
Washington, DC (PRWEB) February 13, 2013
The Chair of the event is Ms. Claudine Adams. Ms. Adams is Owner of Adams Communications & Engineering Technology in Waldorf, Maryland (ACET - http://www.adamscomm.com). ACET is a very successful national security company providing innovative systems, products and solutions in healthcare systems, information systems, aerospace, electronics and technical services to government and commercial customers worldwide. Hosting the event is Lamont Hames, Chief Development Officer, UNCF Special Programs Corporation (http://www.uncfsp.org) and Angelique Westerfield, Executive Producer, African Diaspora Today WVON am 1690 (http://www.wvon.com).
During this event there will be a special recognition to President Barack Obama. David Hinson, National Director, U.S. Department of Commerce Minority Business Development Agency is their keynote speaker.
Invited guests and dignitaries include: General Dennis L. Via, Commanding General of the U.S. Army Material Command; Congressman Elijah Cummings; UN Ambassador, Susan Rice; Ambassador of Ghana, Daniel Ohene Agyekum ; Ambassador of Israel, Barukh Binah; Ambassador of Saudi Arabia, Adel A. Al-Jubeir . Confirmed to attend is Ambassador of Botswana, Dr. Tebelelo Mazile Seretse and Prince George's County Executive Rushern L. Baker, III.
Companies that will be honored will come from the following industries: energy, import/export, hospitality, manufacturing, IT, cyber security, construction, healthcare, education, finance and investment, telecommunications, etc.
MEA Magazine is a business tool for small/minority, women and veteran-owned businesses. This event will present the opportunity to network and create new partnerships. The men and women being honored are business leaders who are doing business nationally or internationally; empowering communities around the world and shaping our economic future.
There will be live entertainment; a lavish dinner will be served. Individual seating is $500; a corporate table of 10 is $5,000. Please reserve your seating in advance; there is no on-site registration. For more information call us at (703) 730-4091 or email at vpwilliams (at) comcast (dot) net. Visit our website at http://www.meamagazine.com or http://www.meecouncil.com.