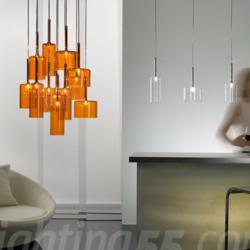 New Spillray collection by Axo
Tarpon Springs, FL (PRWEB) February 19, 2013
The innovative modern lighting provider Lighting55.com announces the introduction of two new collections from Axo Light – the grand and impressive Spillray, designed by Manuel Vivian, and Sandro Santantonio's bright and bold Muse Collection. Axo Light is rooted in handcrafted Italian glass-blowing tradition while its U.S. distribution center provides quick shipping of product to the customer. For the first time - Lighting55.com is introducing this new material of crystal glass along with a sleek design. The Spillray collection won many design prices and has already been very successful in many markets all around the world.
Spillray Collection
Manual Vivian's Spillray Collection for Axo Light includes a variety of configurations, including table, ceiling, chandelier and sconce options. Spillray combines sturdy Pyrex glass, which is blown in a metal cast, with a chrome-plated metal frame that creates compelling material contrast and can complement a wide variety of interiors. The Pyrex glass is incredibly strong, providing durable and enduring style. The glass cylinders – which provide either up-light or down-lighting depending on the configuration – are available in a choice of colors, including crystal, orange, red or grey. This flexible and elegant collection was designed by Manual Vivian, an Italian designer who got his start at a young age by learning the traditional art of Venetian glass blowing, his family's business. He has collaborated frequently with Axo Light since 1996 when the company launched, becoming the company's primary designer.
Muse Collection
Axo Light's innovative Muse Collection echoes the lines and design of classic mid-century modern lighting. Sandro Santantonio designed this flexible collection with a white metal frame and removable and washable elastic fabric covering. The playful fabric covering, which creates a diffuse glow, comes in 11 colors and two patterns options, so it can be easily coordinated with a variety of interiors. Muse is available in numerous configurations, including table, suspension, ceiling, and sconce, inviting creativity in mixing and matching color and shape. It was designed for Axo by Sandro Santantonio, whose Italian design firm has an international and multi-disciplinary approach, specializing in everything from product design to domestic and contract interiors, from expositions to events. His design represents a perfect syntheses in the various fields of contemporary design.
About Lighting55.com
For over 15 years, Lighting55.com has been providing traditional and contemporary Italian and modern lighting solutions. Their clients include individual homeowners, interior designers, contractors and corporations. Some of their current clients include Twentieth Century Fox, Macy's, Deutsche Bank and the Cosmopolitan Las Vegas. Lighting55.com is a division of Euro Lights & Electric Group Inc. headquartered in Tarpon Springs, FL, with warehouses in the United States and Germany.