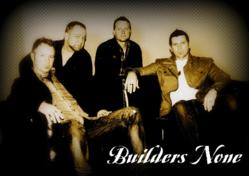 They always get the crowd going and really pay attention to the move of God. Every time they perform it is an awesome worship experience
Canon, Georgia (PRWEB) February 12, 2013
Pure Web, a web services company that provides both web design/development and web hosting, is always pleased to support and sponsor local events. Activities like this allow Pure Web to give back to the community and strengthen ties within it. Pure Web will be bringing Builders None in concert on March 30, 2013. Arise, an Easter Celebration will be held at Rice Creek Baptist Church in Canon Georgia.
Builders None, a dynamic Christian rock band from North Georgia has managed to transform themselves from a local garage band to a festival favorite earning coveted slots at major venues such as AtlantaFest and FaithFest, and have been featured in markets all over the Southeastern US. They have shared the stage with such Christian music mainstays as Skillet, Fee, The Afters and dozens of others.
"I met Andy several years ago while they were assisting in Prison Ministry and we have kept in touch ever since. Being involved in ministry I have had the opportunity to work with Builders None a handful of times and incorporate them into whatever event I produce. These guys can jam and they always get the crowd going and really pay attention to the move of God. Every time they perform it is an awesome worship experience." says Steve Fortmann, owner of Pure Web.
Builders None, hot from their worldwide release of "Glory in the Highest" will perform in Canon Georgia at Rice Creek Baptist Church for the Arise Easter Celebration. This event will have activities for all ages and feature live music throughout the day. There is no cost to attend Arise and the entire community is invited and encouraged to come and participate in what is sure to be a wonderful celebration.
About Builders None
Rarely does one find the blend of ministry, passion and purpose that is present in the music of Builders None. Now, after hundreds of tour stops, they have just released their first radio single "Glory in the Highest." With this release Builders None has extended their ministry worldwide, debuting the single on six continents and in thousands of markets. Produced by Steven Howell (Candlefuse, Satellife) and mixed by multi-Dove Award winner Plink Giglio (Newsboys, Styx), "Glory in the Highest" has introduced the world to this energizing band with a message of love. For more information on Builders None please visit: http://www.buildersnone.com