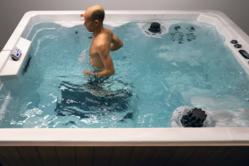 The Exercise Spa gives our customers yet another unique option for exercise and relaxation.
Philadelphia, PA (PRWEB) February 13, 2013
Endless Pools is excited to announce the launch of its brand new 10' Exercise Spa, which hit the market this February.
Small enough to fit into a variety of tight spaces—indoors or outside—the Exercise Spa can feature an underwater treadmill to make it the ultimate spa for relaxation and exercise.
A hydrotherapy jet seat affords people the opportunity to unwind after a long day or relax after a satisfying workout.
While not equipped for swimming, the 10' Exercise Spa is perfectly suited for all forms of water exercise and aquatic therapy.
Built with a single sheet of Lucite® acrylic with Microban®, and shipped complete with Permawood skirting, the newest 10' Spa features integrated steps providing easy access.
"The Exercise Spa gives our customers yet another unique option for exercise and relaxation," said Endless Pools founder and CEO James Murdock. "We are excited to expand our product line and offer such a great value to customers."
An adjustable underwater treadmill with optional resistance jet can provide an ideal cardiovascular workout for rehabilitation from a variety of injuries and medical conditions.
People with back pain, arthritis, and fibromyalgia find that the low-stress environment of water offers an opportunity to increase strength and flexibility as well as decrease joint swelling and reduce pain.
In addition, triathletes and distance runners whose knees and joints take a pounding can enjoy low-impact running or walking in the water.
"The underwater treadmill is one our best features and can make a big difference for rehab or training," said Murdock. "Alistair Brownlee, a triathlete who tore his Achilles six months before the Olympics, trained on a treadmill in an Endless Pool and went on to win the Gold Medal in London."
"The treadmill truly works and we can't wait for more people to experience the benefits of cardio workouts in the water."
For those interested in a Swim Spa that combines exercise, relaxation and swimming, Endless Pools features 15', 17' and 19' models, which provide additional versatility.
Endless Pools has manufactured its patented swim current for over 25 years, and the new line of Spas provide the best options available for swimming, entertaining and family fun.
ABOUT ENDLESS POOLS:
Endless Pools, established in 1988, has served over 20,000 customers in over 80 countries, and offers compact, customizable pools for swimming, water exercise, aquatic therapy, family fun and relaxation. With a series of six innovative products and an adjustable, revolutionary swim current, the product can be tailored for indoor or outdoor installation. Rigorously tested for safety, low-maintenance and environmentally friendly, Endless Pools has a product to meet virtually any need.
For more information, visit http://www.endlesspools.com